Fishing Regulations in Costa Rica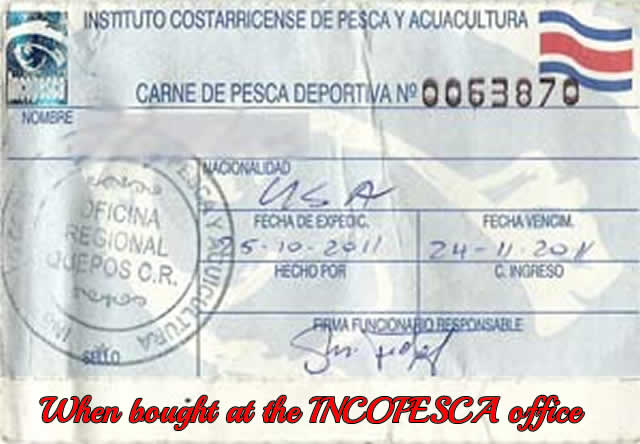 Are you thinking to come to Costa Rica and try fishing on a boat, river or surf fishing from the beach?, Are you concerned about fishing licenses for fishing in Costa Rica?
Well, you must know, you will need fishing license if you want to fish from a boat. A fishing license for a fishing charter does not matter how long it is, just a few hours or all they long.
What about a fishing license for fishing from shore or rivers?, no, no fishing license needed if you want to enjoy fishing in a river or from the beach anywhere in Costa Rica; however, for fishing from a boat in the Ocean (Caribbean or Pacific) or the Lake Arenal.
Surf fishing in Costa Rica is very popular for locals and foreign and there are no restrictions; just bring your own tackle or buy a cheap new one here in Costa Rica and enjoy casting for jacks, mackerel or the appreciated roosterfish which is one of the most popular species.
You can buy a fishing license for a week for $15, a month for $30 or s year for $50. This document cannot be passed to other fisherman since the license will has the owner name printed and it is valid only if you has the passport or a copy of it.
Everybody in your group, on a fishing boat in the way to a fishing day will need a fishing license. Sometimes the Coast Guard stops a boat and aboard this to check for papers including passports and fishing licenses.
Where to buy a fishing license? Well, you can buy a fishing license from the INCOPESCA offices (Costa Rica Institute of Fisheries and Agriculture), which are very few and only in main towns, in other hand, now you have the chance to buy them online: HERE. However, be aware of this site, many days in a month the site is down and many other times you can receive an unexpected error message after you have been charged for the licence(s); so, in case this happen you can contact: Betty Valverde Cordero (INCOPESCA official) at her email address (bvalverde@incopesca.go.cr), try to explain your problem and ask her to send you the ticket you paid for.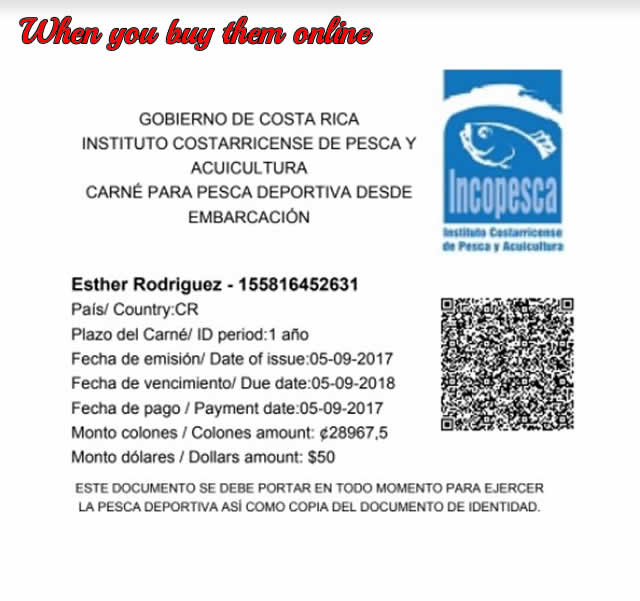 In Papagayo, El Jobo or Flamingo areas Coast Guard almost never stops boats and check for licenses; however, if they do, you have to have them with you or have the chance your charter to be cancelled and be back to your starting point earlier than you expected.