Fishing Reports before May 2009
May 26,
From Jesus Mendez captain: "Right now we have a very nice weather with shine mornings and some rains at the afternoon and about fishing, well it has been rising, dorado, tuna, wahoo, rooster, sail, marlin... and so on, maybe it is due rains (this is the transition month between dry and rainy season), we have very good catchs in all species. We can see a large schools of small fish in the golfo such as dorado and tuna or bonitos are abundant, we know they are not alone ..."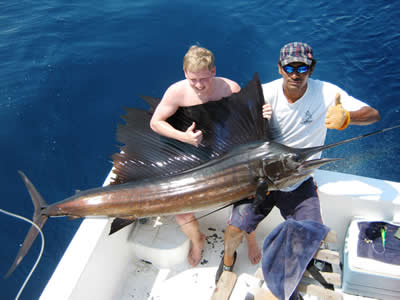 Granville Engle and 3 friends fishing out from Flamingo beach caught 8 dorados and one sailfish in a half day fishing charter aboard the CORMORAN boat with Arnaldo Mendez captain.
May 24,
Matteiw Contreras and two friends fishing out from Playas del Coco aboard the CORMORAN boat caught 8 dorados in a inshore charter.
May 20,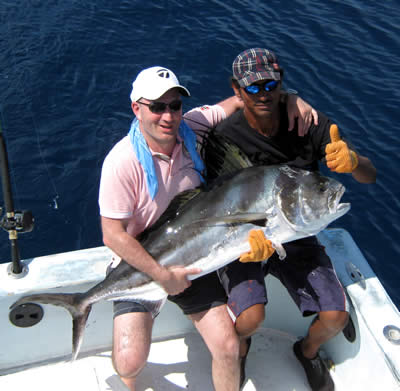 Brett Walker and some friends from the Four Seasons Resort were fishing aboard the LA CHILA-G boat with Jesus Mendez captain. Jesus took them fishing at Bat islands and landed a nice sailfish, a roosterfish, one mahi and one cubera snapper.
May 19,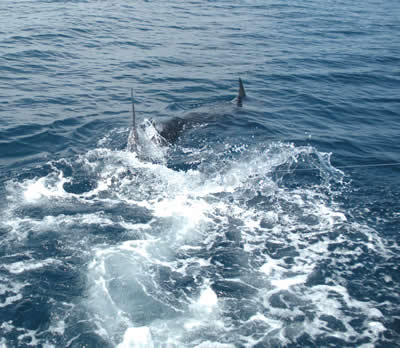 Grant Levy and two frineds, from the Four Seasons Papagayo, where fishing with Jesus Mendez, the LA CHILA-G boat captain, at Bat islands (here has been the action Latest). They relased a 600lbs Black marlin, 5 dorados, one wahoo and one yellowfin.
From the captain: "The picture show a big marlin fighting, however it was impossible to take it up to the boat to take some pictures, so i decide to cut the double line".
May 17,
Jesus Mendez, LA CHILA-G boat captain, took Phillip Jarrel and two friends from the Four Seasons Papagayo resort fishing offshore to the Bat Islands. They landed a fabulous 500lbs Black Marlin, a 450lbs Blue Marlin, a nice sailfish, one rooster fish and two jack jurels.
Phillip uploaded a small video to YouTube and send us the link, play it you too.
May 07,
Captain Jose Mendez on the ALBATRES took Eric Pulland and friends (from Playa Negra - Tamarindo) half day inshore to the nearby Catalinas island and they caught a sailfish and a lot of tuna.
May 04,
Captain Nelson Mendez on the TUNA-FISH took family Decker (from Condovac Playa Hermosa) offshore/inshore fishing to Bath islands. They caught 7 dorados and two big neeedlefish.
April 14,
Beth Norris and 2 friends were fishing out from the Four Seasons Papagayo resort aboard the Cormoran boat. They wanted to have some fun and action offshore, so Lino Guido captain took them out Tamarindo beach and caught a bunch of different fishes: 5 yellowfin, one dorado and a big wahoo.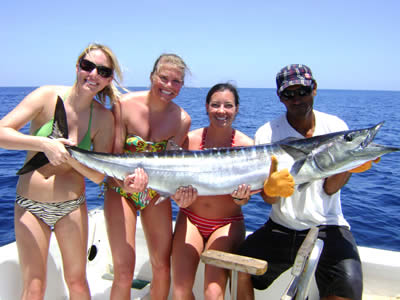 March 31,
- Odir Gutierrez on the LA CHILA-G and Lino Guido on the CORMORAN boats took a numerous family from Ocotal beach fishing out Tamarindo. At the end of the day each boat released a sailfish. Captains said there are a lot of sails, they can see them however doesn't bite, despite of this, fishing looks better, it is starting to rise here in Tamarindo and Papagayo region.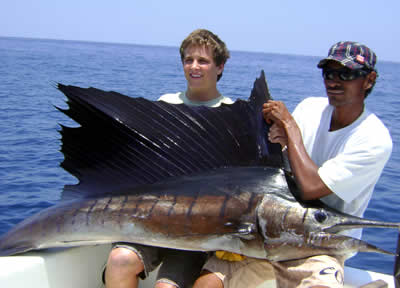 March 30,
- Odir Gutierrez on the LA CHILA-G boat took Chris Stoke fishing out from Falmingo beach, deep sea fishing in Papagayo he landed 3 sailfish.
- From the Four Seasons Papagayo resort, Bruce Ayers and a friend, aboard the CORMORAN boat landed a sailfish.
March 26,
Chris Stokes and two friends were fishing on the LA CHILA-G boat out from Flamingo beach; at the end of the day they landed a sailfish.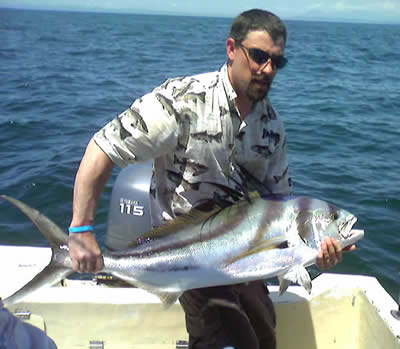 March 24,
Jose Mendez on the Albatres boat took Steve Chalker and his wife fishing inshore at the nearby Catalinas islands. They caught one roosterfish, two jureles and some bonitos.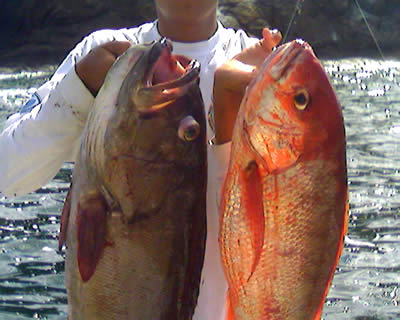 March 16,
Jose Mendez on the Albatres boat took Julie Gentile and her husband,
Papagayo Rooster Fishing
to the nearby Catalinas island; they caught one roosterfish and two cubera snapper.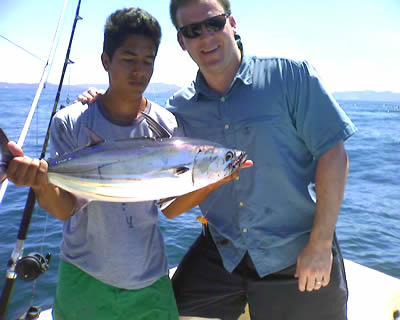 February 16, 2009
Wes Bradshaw and his wife, fishing out from the Hilton Papagayo Resort on a half day inshore fishing at the nearby Punta de Palmares (here in Peninsula de Papagayo) on the Albatres boat caught 10 Bluefin tunas and 15 pounds grouper.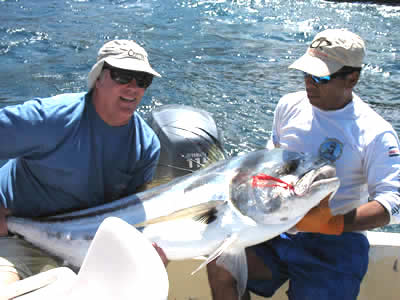 We had bad weather on first week of February, very strong and cold wind afected the gulf of Papagayo and Tamarindo regions. We had really bad conditions that not let us to fish. After that water got cold and few fishing was possible until begining second week when dolphin, tuna, rooster and marlin started to bait again.
February 13, 2009
Park Smith and his family, fishing out from Playa Panama in the Peninsula de Papagayo, had a deep sea fishing on the LA CHILA-G boat, they caught a nice blue marlin and two bonitos.
February 11, 2009
Ryan Roman and his wife were fishing on the Cormoran boat at the nearby Catalinas island and caught 2 Dorados, two tunas and some groupers.
February 09, 2009
Jose Mendez, on the Albatres boat took Cham Jonhston and his wife inshore fishing at the Catalina islands. They released two nice roosterfish, one of them 60 plus pounds.