Getting Liberia, Papagayo, Tamarindo
Getting Guanacaste province from san Jose (capital city):
If you are one of those tourist arrived to Costa rica using its main international airport (Juan Santamaria in the capital city: San Jose) and now you want to reach Tamarindo (and its spectacular Tamarindo fishing), Flamingo beach, Brasilito, Papagayo, Coco beach or Ocotal beach driving from San Jose, you have to get Liberia city first; so, for all clients leaving the San Jose Region, follow the Autopista by the Airport Juan Santamaria (keeping in the San Ramon lane), and continue on this road following signs saying Liberia. This is approximately a 3-4 hour drive. There is a stop light here in Liberia city (yes one of the only ones you will come to) and you turn left following the road and continuing on pass the Liberia Airport.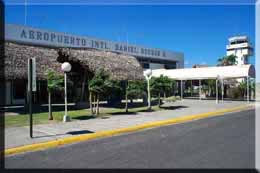 Liberia International airport Daniel Oduber:
Located in northern Costa Rica, the Liberia International Airport or the Daniel Oduber Quiros International Airport lies in Liberia, the capital of Guanacaste province. Set up mainly to cater to those tourists who wish to enjoy the wonderful weather, great beaches and the best
Guanacaste Fishing charters
. The Liberia International Airport sits some 217 km northwest of the capital city San Jose.
Fast becoming a major international airport exclusively for tourists who want to enjoy Costa Rica's gorgeous Pacific coastline, arriving at the Liberia International Airport is the quickest way to enjoy
Guanacaste fishing charters
and reach places like Tamarindo beach, Playa Negra, Golfo de Papagayo, Playa Grande, Playa Conchal, Playa Flamingo, Playa Hermosa and the Marino Las Baulas National Park.
Getting Papagayo and Coco beach driving from Liberia city :
For all clients leaving the Liberia airport, follow the road out of the airport to the main road and turn right. Drive until cross the only one big bridge (Tempisque River), continue driving others 200 mts and turn right at the Do it Center. This road goes to the Allegro Papagayo, Four Season and Fiesta Premier Papagayo hotels.
To reach places like Coco beach, Ocotal beach, and Hermosa beach don't turn right at the "Do it Center" and keep driving 500 more meters for the same road until the next intersection called Tamarindo, here turn right. Drive for about 15 kilometers until arrive to Coco beach. 3 kilometers before is the intersection to go to Playa hermosa and hotels VillaSol and Grand Papagayo.
Gulf of Papagayo is 25 minutes from Daniel Oduber (Liberia) airport, while Tamarindo is almost 80 minutes drive. Both roads are in good conditions and doesn't has heavy traffic.
Getting Tamarindo, Conchal, Playa Grande, Flamingo beach driving from Liberia :
For all clients leaving the Liberia airport, follow the road out of the airport to the main road and turn right. You will drive to a small town called Belen 30 kilometers(follow signals for the main town: Filadelfia), this time following signs heading towards Flamingo or Playa Grande, or Paradisus Playa Conchal Hotel and Tamarindo beach about 25 minutes drive.
More detailed driving information here--> Map of Costa Rica route planner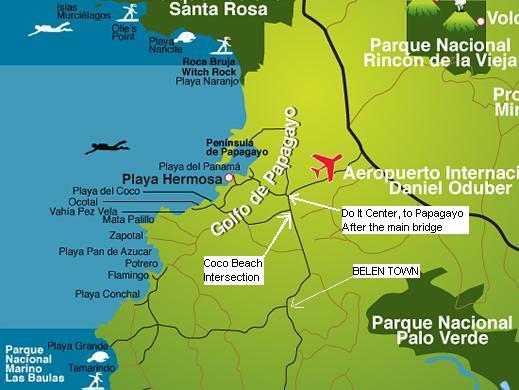 About flights to Liberia :
Delta Airlines has a direct, non-stop flight from Atlanta and Los Angeles to Liberia International Airport. American Airlines provides non-stop service to Liberia from Miami and Dallas. Continental Airlines also flies non-stop from Houston and Newark to Liberia. Air Canada provides seasonal non-stop service to Liberia from Toronto. Several major airlines offer international flights to San Jose, Costa Rica's capital city.