Papagayo Sport Fishing
Welcome to Papagayo Sport Fishing; anglers, fishermen and those who would like a fishing charter out of Papagayo (Peninsula de Papagayo, gulf of Papagayo), Flamingo or Tamarindo beach at the north western corner of Costa Rica. Fishing charters in these world wide famous water for its quality and great variety of fishing species let us provide awesome deep sea fishing charters and fabulous inshore Papagayo fishing trips, these waters are productive twelve months of the year.
About Pick Up ...
When possible, we pick up, BY BOAT, from the hotel beach you are staying. Contact us by e-mail or give us a call if you have any questions regarding our charter boats.

Papagayo Fishing Reports
November 23,
A couple of fresh fishing reports for today and recently days of fishing...
- Arnaldo Mendez the La Chila boat captain took Pete Baughman and his friend deep sea fishing on a full day charter. They ended the day with 4 sails raised and two of them landed.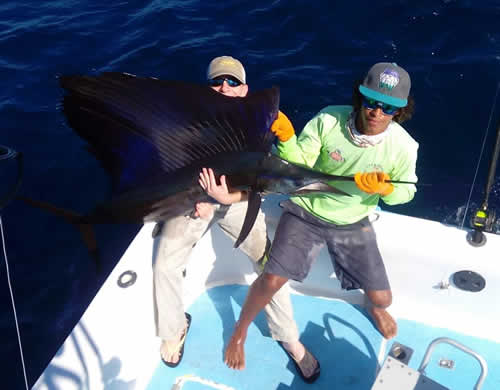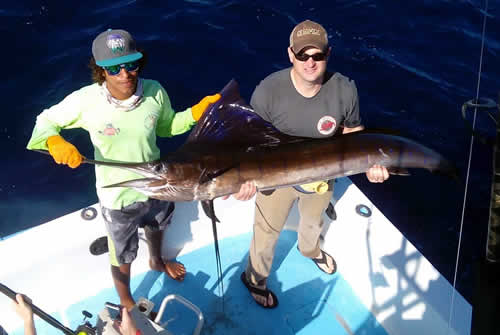 - Berna Garcia on our Mahi Mahi boat took Shawn McMahon and his wife inshore fishing for a 6 hours charter. They had a nice time and landed 3 very good sized roosterfish and one jack.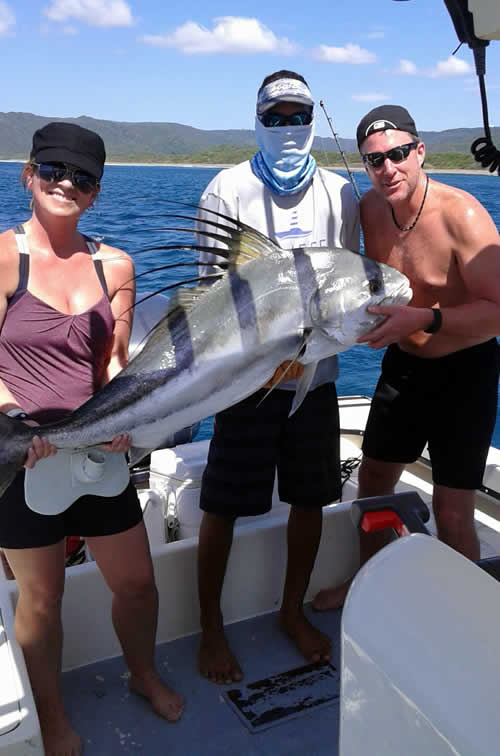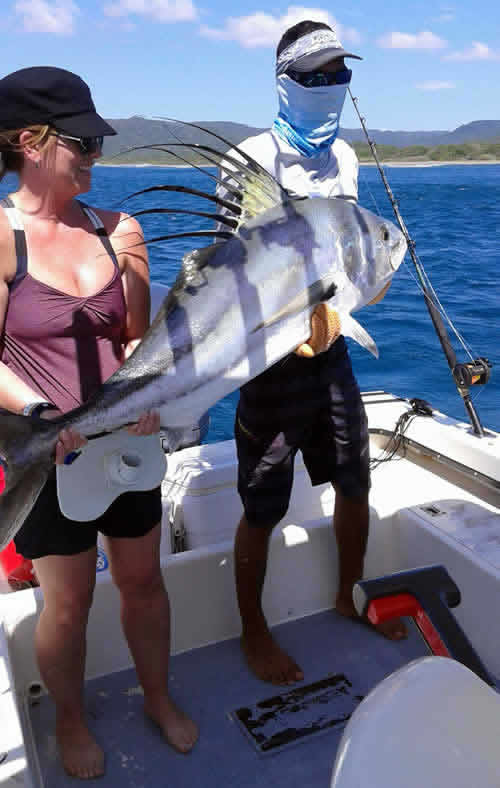 A couple of pics from previous charters...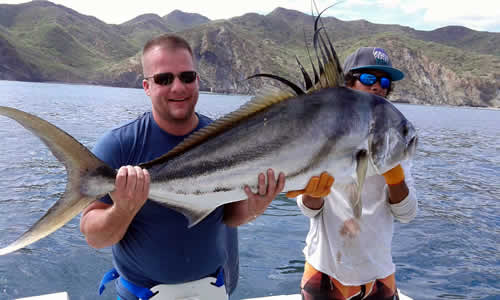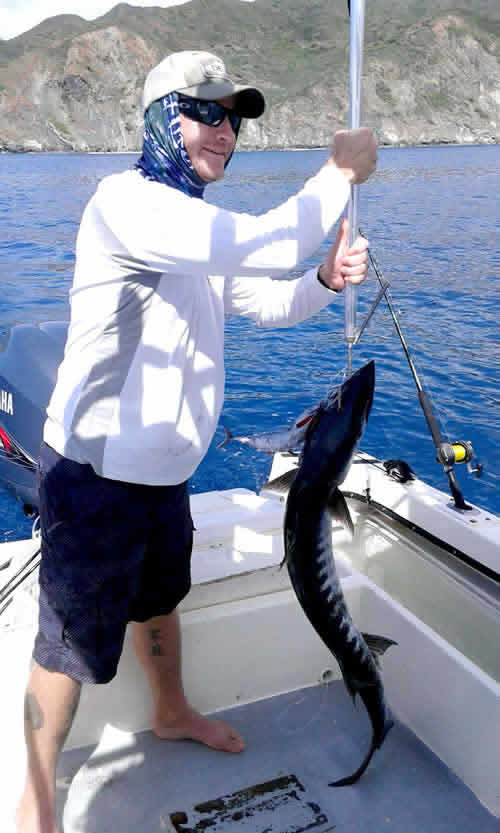 February 27,
Heather Weinman was fishing with us on LA CHILA boat and his captain Arnaldo Mendez. He fished offshore and inshore, cause the windy conditions. Released a couple of sailfish and caught a one dorado. They came to the shore but were no lucky fishing for roosterfish.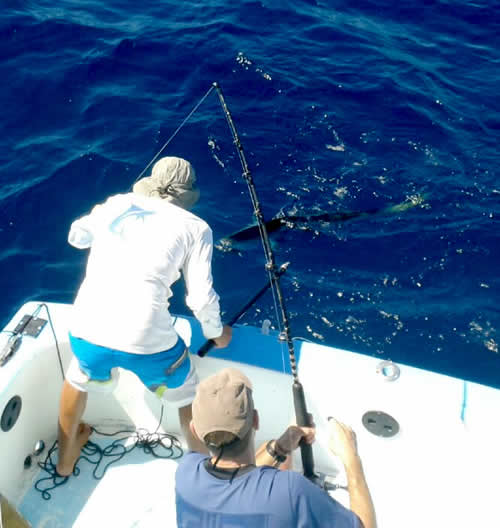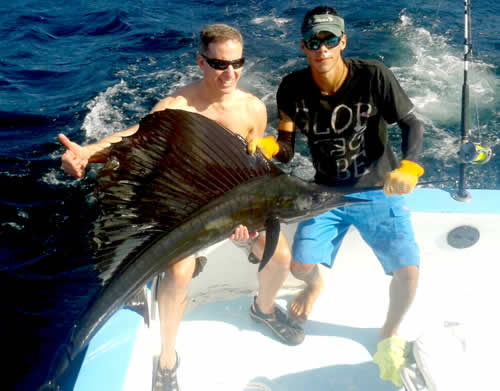 February 26,
Steve Savoie was fishing with us on board LA CHILA-G boat and Arnaldo captain. He was fishing offshore from Flamingo beach and had a nice time. He caught a couple of dorados and landed 2 of 3 blue marlins.
Other captains also reported marlins, a few more released and many others just raised.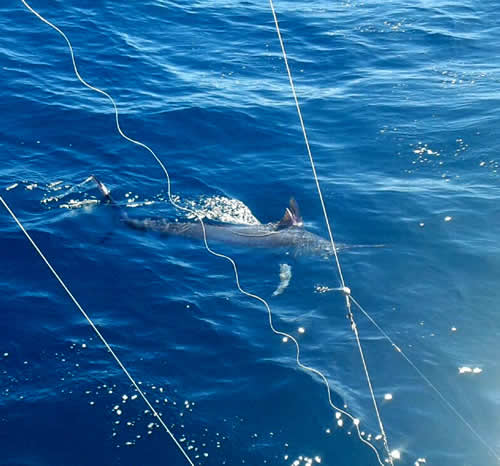 February 19,
Chris Frail was fishing with us on board the Mahi Mahi boat and Arnaldo Mendez captain. He has a nice day and caught the fish he wanted, a good sized roosterfish, one dorado and a couple of bonitos.
Chris wrote a small review about his charter at
TripAdvisor.com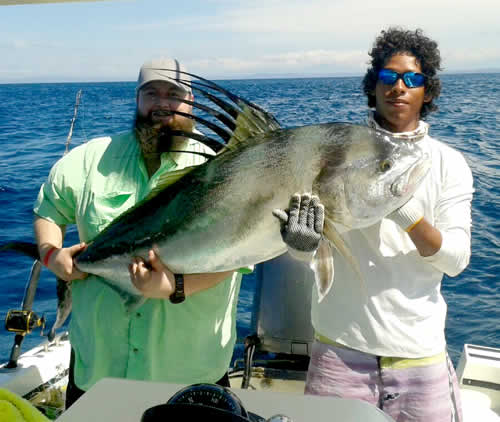 December 29,
Freddie Gonzalez and his friend are staying in Tamarindo beach and booked our La Chila-G and Arnaldo Mendez captain, for a full day fishing charter out of Flamingo beach. Today was a little windy; however, they had a lucky day of fishing and landed the black marlin shown in the pic below. Many captains reported marlin and sailfish landed.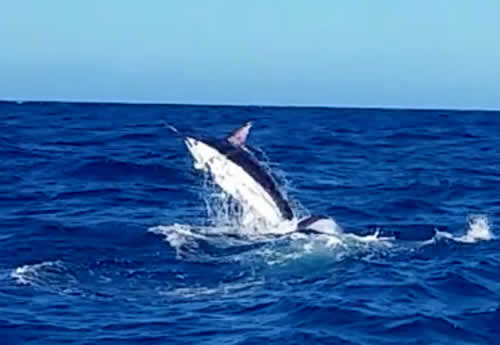 December 28,
Jay Hould was fishing with us for a few inshore for a couple of days and the last day he wanted an offshore fishing charter on board the Cormoran boat. This has been up and down; we were fishing offshore out of Flamingo on December 27 but captains reported a few bonitos only. Today Jay was lucky and caught a nice mahi mahi and landed the marlin in the pic below.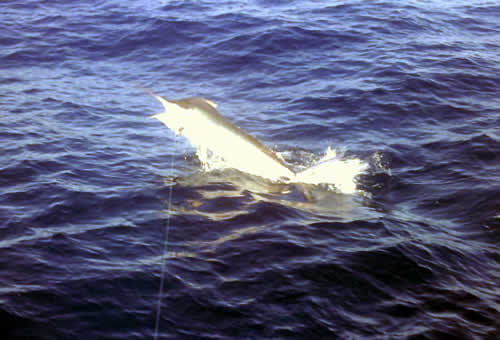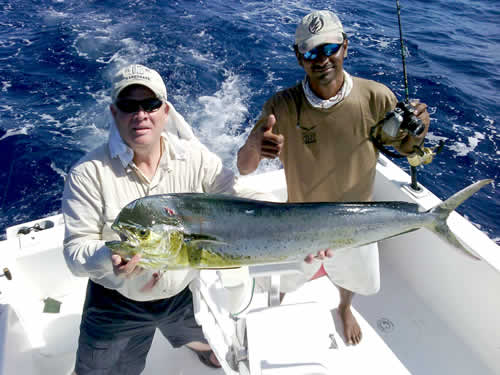 December 23,
Sharon Lang and two more friends from the Occidental Grand Papagayo were fishing with Arnaldo Mendez on board La Chila-G boat. They had a nice day of fishing and released a nice sailfish and also caught 4 very good sized mahi mahi.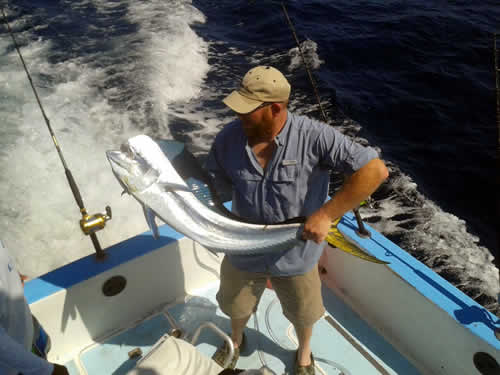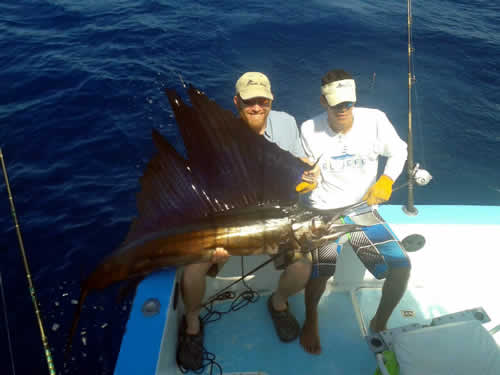 December 22,
Brian Miller and two more friends were fishing with Arnaldo Mendez on board La Chila-G boat. They had a nice time and caught a bunch of different species.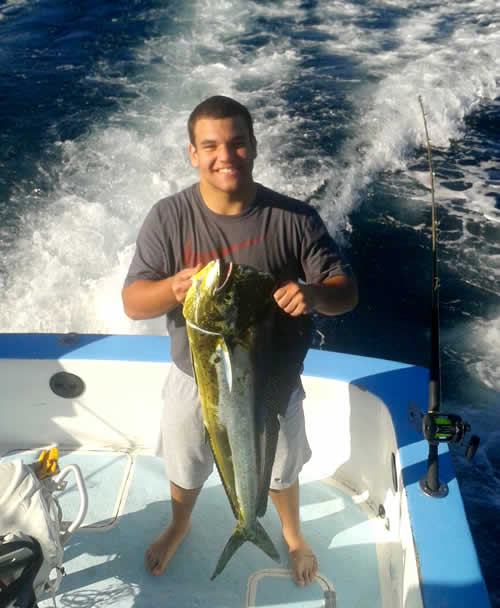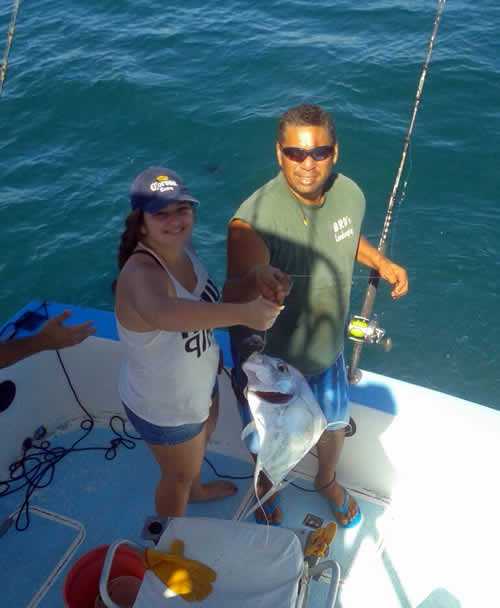 December 16 and 18,
Arnaldo Mendez, the La Chila-G boat captain picked up from Playa Conchal Geoff Newton and his small son. Geoff wanted to try offshore fishing in the morning; so, they went fishing out of Catalinas islands. His small kid has also action and in the pic below is showing one of the mahi mahi he caught.
In the afternoon them came to the shore and were casting near the reefs. Caught a big needlefish and a cubera snapper.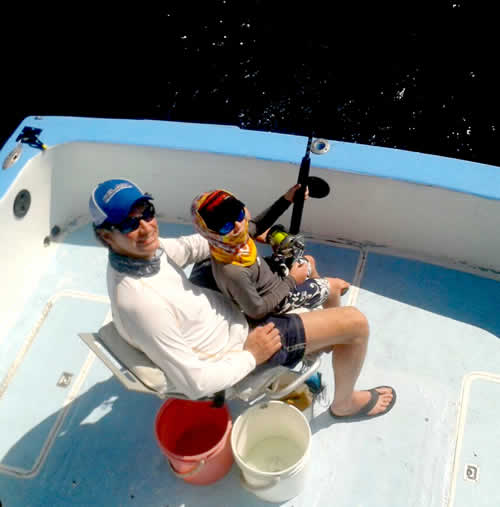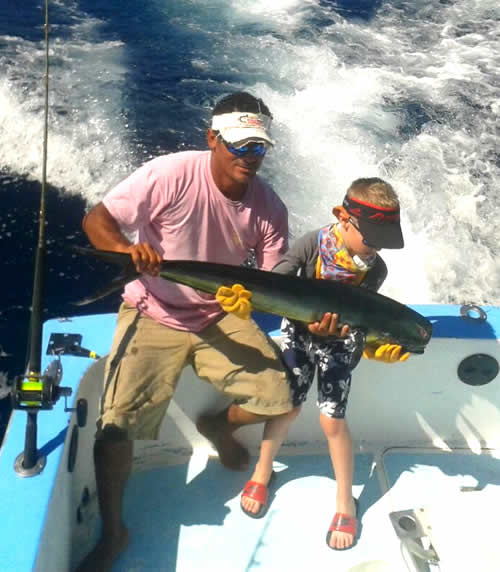 We cater for the family and small kids too
In the second day, on December 18 Geoff bring his smaller son for a half day charter. What a nice pic below!.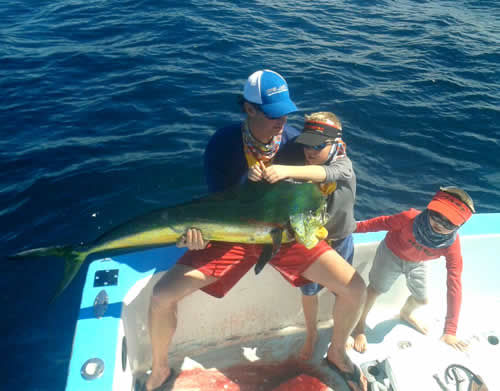 Pics from Mike, fished on November 24,
Here a few pics i got from Mike who booked our Sea Snake boat for a full day fishing charter out of Dreams Las Mareas hotel for November 24. They had a nice day.