Offshore Fishing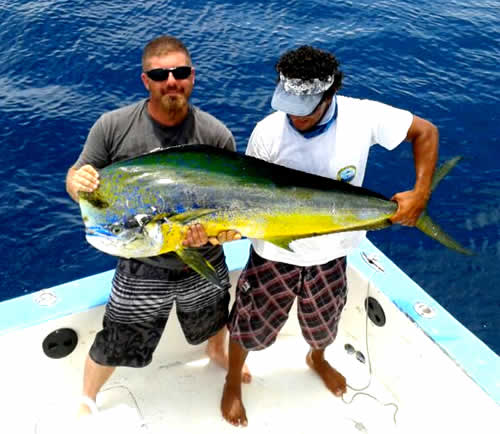 The right place to target for billfish (sailfish and marlin: blue, stripped and black) in Costa Rica, but also for very good sized mahi mahi and seasonal large wahoo and yellowfin tuna. The Humbold current goes from South to North and feed these water; the very close continental shelf that goes from 100 to thousand of meters is a very productive place where to target for billfish and other offshore species.
One hour boat running and sometimes less is enough to reach the offshore spots making possible to fish offshore and inshore in the same day when anglers want to try both. So, we recommend a full day if you want to go reach offshore spots, or at least 6 hours on board a 30ft or bigger boat.
Inshore fishing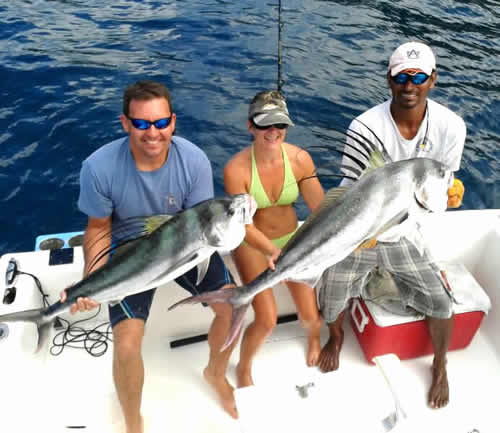 The gulf of Papayo is one of the best place in Costa Rica to catch the second best appreciated target for any angler coming down fishing in Costa Rica: Roosterfish. This vast water feeded for strong currents from the deep waters drag lot of plankton providing food for the sea life in the gulf, making it a place a to live for species such as red snapper, cubera, jacks and many other migratory species such as mahi mahi or even seasonal sailfish or marlin are caught close to the shore where they are feeding from schools of small dorado and bonitos.
There are many inshore fishing spots in the gulf and some of them are reacheable just 20 minutes boats running; however, depending what you want or what you paid for we will have to run around one hour to reach farther and even better inshore fishing spots. For this kind of fishing any boat would be ok, this will depend on the number of people on your group and how comfortable the boat you are looking for.