Fishing Boats and Rates
we are boats owners and have different boats size and rates, we are sure you will find a boat size and rate that will fit your budget and expectative for comfort and comodity.
DEPOSIT
: a 50% charter cost is requiered for SOME boat charter. We accept major credit cards and PayPal deposit.
Check our
boats available out of El Jobo beach
for those who will be staying at the hotel Dreams Las Mareas.
---
---
---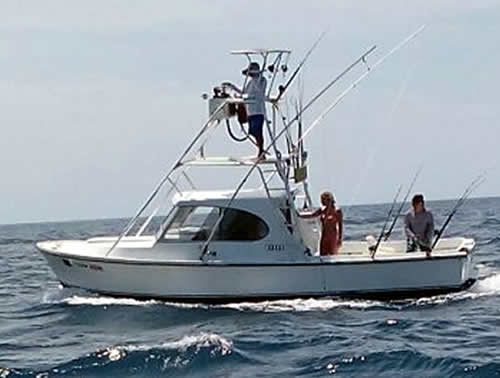 LA MANTA


La Manta is a 28ft Shamrock that boasts a large spacious cockpit that is perfect for standup or fly. Marine head, Electronics, Livewell, Tuna-tubes, everything you need for the perfect day offshore or in.


Prices for up to 3 people per boat for offshore and for 4 people when inshore charters.
La Manta boat rates:
Full day : 8 hours = $775 (offshore / inshore)
6 Hours Trip = $675 (offshore / Inshore)
Half day : 4 hours = $525 (Inshore)
---
---
---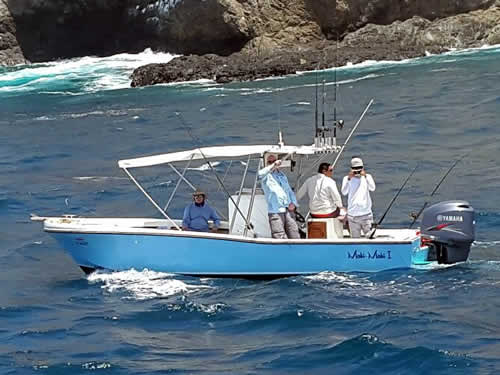 MAHI-MAHI


This is a Mako 24ft boat powered by 200hp Yamaha outboard engine. Include all fishing equipment. Captain: Arnaldo Mendez is one of our best fisherman and one of the luckiest captain.
There is a toilet in the console box on board this boat, for the ladies convenience.

Prices for up to 3 people per boat.
Mahi Mahi boat rates:
Full day : 8 hours = $550 (inshore)
6 Hours Trip = $475 (Inshore)
Half day : 4 hours = $375 (Inshore)
---
---
---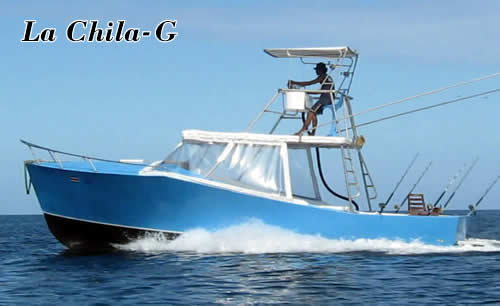 LA CHILA-G


Custom build, 33ft, powered by 425hp Cummins. The boat has restoom aboard. Include all fishing equipment (Shimano and Penn International tackle, GPS, fishfinder).

Prices for up to 4 people per boat when offshore and 5 people when inshore charters.
LA CHILA-G boat rates:
Full day : 8 hours = $875 (inshore or offshore)
6 Hours Trip = $775 (Offshore or Inshore)
Half day : 4 hours = $650 (Inshore only)
---
---
---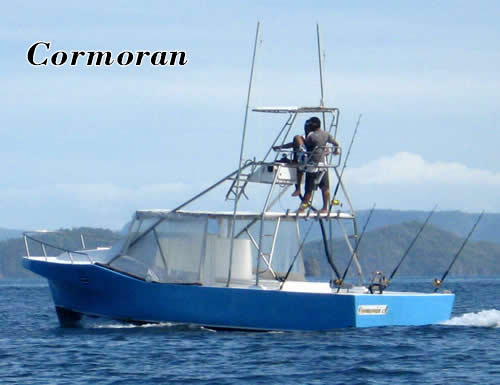 CORMORAN Boat:


Custom build, the CORMORAN-A boat 32ft, powered by 315hp Yanmar. The boat has restoom aboard. Include all fishing equipment (Shimano and Penn International tackle, GPS, fishfinder). Captain: Arnaldo Mendez.

Prices for up to 4 people per boat when offshore charter and 5 people when inshore.
Cormoran boat Rates:
Full day : 8 hours = $825 (inshore or offshore)
6 Hours Trip = $725 (Offshore or Inshore)
Half day : 4 hours = $600 (Inshore only)
---
---
---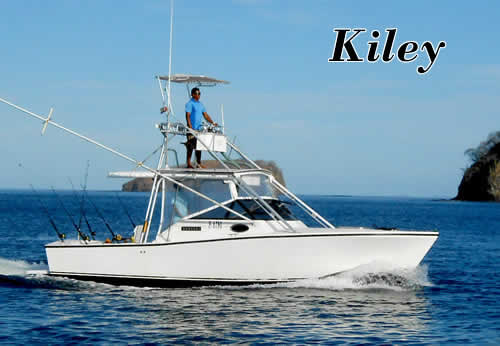 KILEY:


The Kiley is a 30ft Carolina Classic fishing boat powered by twin 240hp Cummins. This boat can accommodate 4 people comfortable. The two engines give this boat a cruising speed of 24 miles and a max speed of 33. There is a complete bathroom on board, tower and outfitted with tournament quality gear (Shimano-Penn).

Prices for up to 4 people per boat when offshore charter and 5 people when inshore.
Rates:
Full day : 8 hours = $1050 (inshore/offshore)
6 Hours Trip = $950 (Inshore/offshore)
Half day : 4 hours = $750 (Inshore)
---
---
---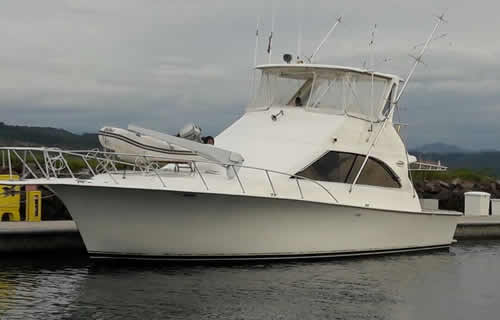 MAMACITA RICA:


Mamacita is a 52ft Ocean Yacht, it has saloon with a/c, 2 State rooms with a/c, full kitchen, two bathrooms, fly bridge and outfitted with tournament quality gear (Shimano-Penn), the finest fishing gear and state - of the art electronics to take you to the fish in first class. Captain and crew are bilingual and with more than 12 years fishing these waters.

Price for up to 9 people per boat.
Rates:
Full day : 8 hours = $2950 (inshore or offshore)
6 Hours Trip = $2500 (Offshore or Inshore)
Half day : 4 hours = $1950 (Inshore only)
---
---
---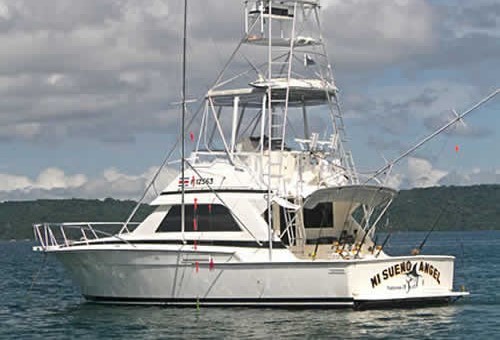 MI SUENO ANGEL:


This luxury sport fishing boat is a 38 foot Bertram convertible with twin diesel engines. It features a fully air-conditioned cabin with double state rooms with bath/shower. The cabin has recently been up graded with all new appliances, furniture, carpeting, and cushions. Additionally, we now feature professional fishing gear for the true angler. The MI SUENO ANGEL is also equipped with the best tackle Penn and Shimano and all kind of lures to secure a productive fishing day.

Price for up to 7 people per boat.
Rates:
Full day : 8 hours = $2300 (inshore or offshore)
6 Hours Trip = $1950 (Offshore or Inshore)
Half day : 4 hours = $1650 (Inshore only)
---
---
---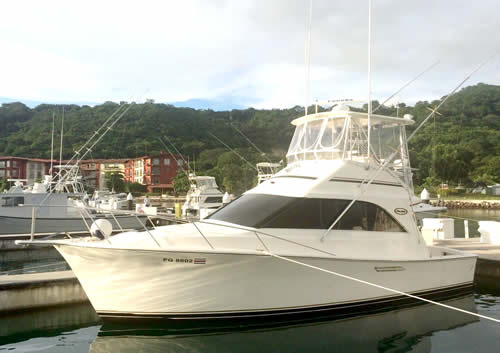 BERNACLE:


This is an Ocean yatch, 36ft long and powered by twin Detroit engines. A spacious salon with air conditioning will accommodate up to 6 people, also feature well stocked galley, large head with shower, tv/dvd stereo system. On the bridge there is enough room for those who likes enjoy the ride and seen as the captain does. Tower and outfitted with tournament quality gear (Shimano-Penn), the finest fishing gear and state of the art electronics to take you to the fish in first class.

Price for up to 6 people per boat.
Rates:
Full day : 8 hours = $1650 (inshore or offshore)
6 Hours Trip = $1500 (Offshore or Inshore)
Half day : 4 hours = $1250 (Inshore only)
---
---
---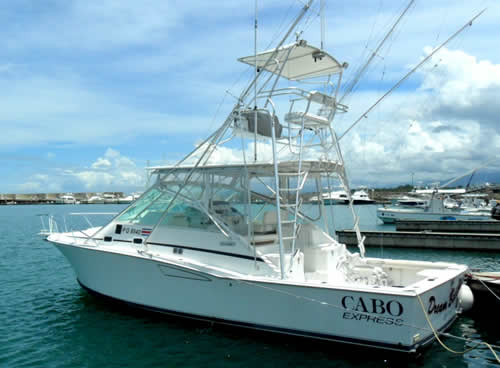 VICTORY:


The Victory is a 36 Cabo Express Sport Fishing Cabin Cruiser. A favourite of charter captains and seasoned anglers worldwide, she features a hull with small propeller pockets and clean underwater lines that create two ideal trolling alleys behind the transom, greatly increasing the number of strikes. The Victory accommodates up to eight guests.
The boat feature: twin caterpillar 435hp engines, Black fin rods, Shimano Tiagra Reels, radar, privated restroom and cabin with airconditioning.
Price for up to 7 people per boat.
Rates:
Full day : 8 hours = $1700 (inshore or offshore)
6 Hours Trip = $1550 (Offshore or Inshore)
Half day : 4 hours = $1300 (Inshore only)
---
---
---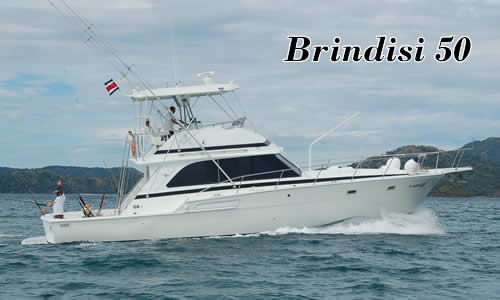 BRINDISI:


This is a Bertram 50ft, the boat is powered by twin 750hp Detroits, this is a luxury boat with a huge and comfortable cabin airconditioned. The boat can accommodate up to 10 people comfortable. Two complete bathrooms on board.

THIS BOAT LEAVE FROM FLAMINGO and will pick up from Papagayo for an extra fee of $100!!!

Price for up to 9 people per boat.
Rates:
Full day : 8 hours = $2450 (inshore or offshore)
6 Hours Trip = $2100 (Offshore or Inshore)
Half day : 4 hours = $1700 (Inshore only)
---
---
---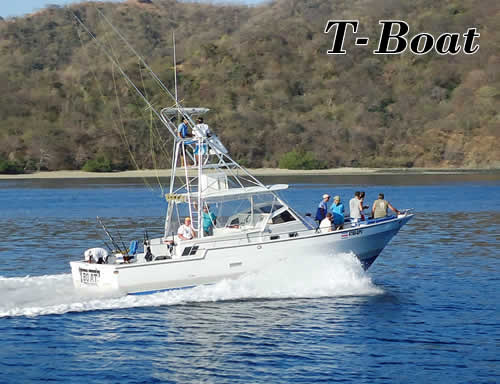 T-BOAT:


This 44-foot Hatteras powered by twin turbo diesel 550hp Detroits engine is perfect for large groups, this boat can take up to 9-10 people fishing comfortable. Open soprt fishing boat with cabin and enough room for each one enjoy the ride and fishing. There is a restoom onboard. Include all fishing equipment (Shimano and Penn International tackle, GPS, fishfinder). Captain: Thomas with more than 20 years fishing in these waters has large experience as sportfisherman in Tamarindo and Papagayo.
Price for up to 9 people per boat.
T-Boat Rates:
Full day : 8 hours = $2050 (inshore or offshore)
6 Hours Trip = $1850 (Offshore or Inshore)
Half day : 4 hours = $1450 (Inshore only)
---
---
---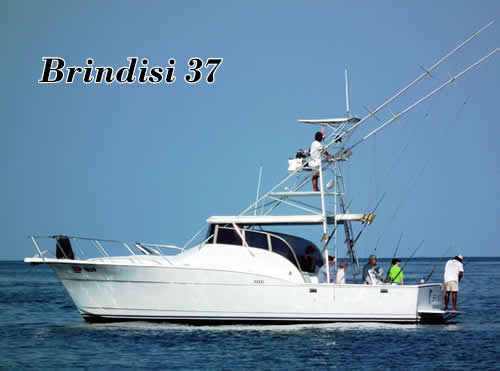 BRINDISI 37:


The Brindisi 37 is a Chris Craft well maintained boat which was repowered recently with twin Cummins 380hp. The boat can accommodate comfortable 6 people; however, one or two more fishermen may come aboard for a larger group. On board, marine toilet, two beds, shimano and penn reels.

THIS BOAT LEAVE FROM FLAMINGO and will pick up from Papagayo for an extra fee of $100!!!

Price for up to 6 people per boat.
Brindisi 37 Rates:
Full day : 8 hours = $1600 (inshore or offshore)
6 Hours Trip = $1450 (Offshore or Inshore)
Half day : 4 hours = $1200 (Inshore only)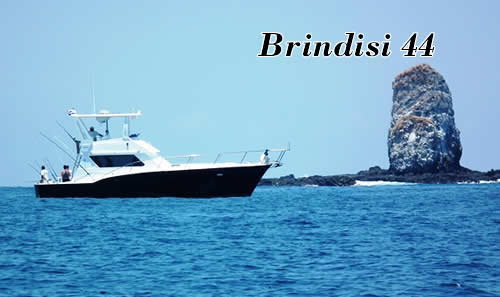 BRINDISI 44:


This is a Hatteras 44ft, the boat is powered by twin 600hp Detroits, this is a luxury boat with a huge and comfortable cabin airconditioned. The boat can accommodate up to 8 people comfortable.

THIS BOAT LEAVE FROM FLAMINGO and will pick up from Papagayo for an extra fee of $100!!!

Price for up to 8 people per boat.
Brindisi 44 boat Rates:
Full day : 8 hours = $2150 (inshore or offshore)
6 Hours Trip = $1900 (Offshore or Inshore)
Half day : 4 hours = $1500 (Inshore only)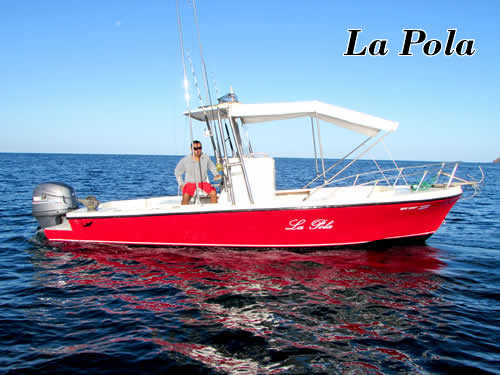 LA POLA


La Pola is a Mako boat powered by Yamaha 115HP. This boat is perfect for those who want to go fishing for a few hours close to the shore and expect some jacks, tunas, small dorados or Roosterfish. The boat can accommodate 2 kids and one adult or two adults and one kid. Include all fishing equipment.
There is a small restroom in the center console box in this boat, for the ladies convenience.
Prices in a basis of 2-3 people per boat.
La Pola boat Rates:
Full day : 8 hours = $550 (inshore)
6 Hours Trip = $475 (inshore)
Half day : 4 hours = $375 (Inshore only)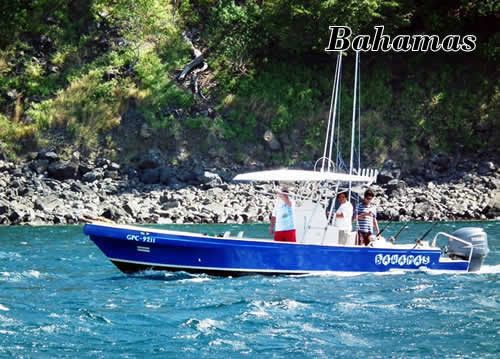 The BAHAMAS:


28ft and powered by 225hp Yamaha. The boat has restoom aboard and a head for shade. Include all fishing equipment. Captain: Greivin Mendez with many years of fishing these waters.
There is a small restroom in the center console box in this boat, for the ladies convenience.

Price for up to 4 people per boat.
Rates:
Full day : 8 hours = $675 (Inshore)
6 Hours Trip = $575 (Inshore)
Half day : 4 hours = $450 (Inshore)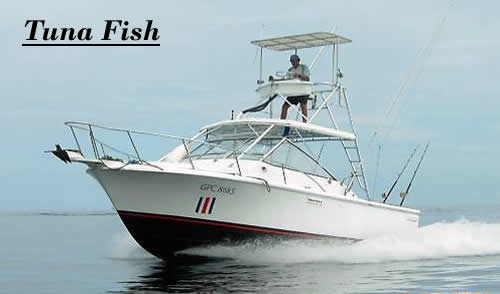 The TUNA FISH boat:


31ft Phoneix boat. The boat has restoom aboard. Include all fishing equipment.

Price for up to 4 people per boat.
Rates:
Full day : 8 hours = $975 (inshore or offshore)
6 Hours Trip = $850 (Offshore or Inshore)
Half day : 4 hours = $750 (Inshore only)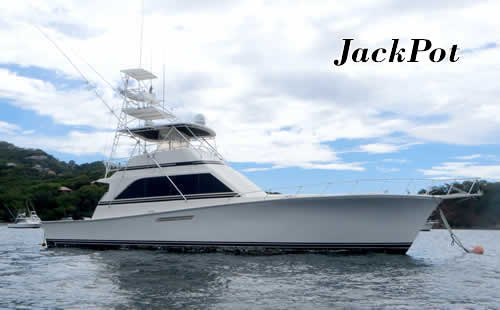 JACKPOT:


This is the larger boat we have for charter, an Ocean 55ft that feature air conditioning and can accommodate a party up to 10 people. This boat is powered by twin 750hp Detroit and a there is a complete bathroom on board, tower and outfitted with tournament quality gear (Shimano-Penn), the finest fishing gear and state ľof the art electronics to take you to the fish in first class.

Price for up to 10 people per boat.
Rates:
Full day : 10 hours = $3500 (inshore or offshore)
6 Hours Trip = $2700 (Offshore or Inshore)
Half day : 5 hours = $1950 (Inshore only)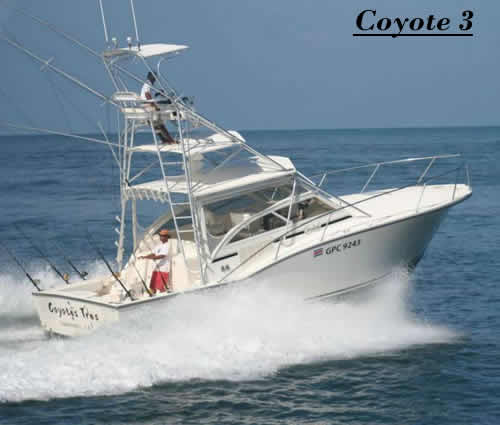 COYOTE TRES:


This 35' Carolina Classic model 2006 powered by twin 500HP Cummins. The boat features air conditioning, radio and DVD player, state-of- the -art electronics such as radar with a 12 miles range, GPS, VHF, fish finder, ice maker and a fish box. This luxury sport fishing boat will hold up to 6 fishermen. Penn International top quality tackle is the gear we use.

THIS BOAT LEAVE FROM TAMARINDO BEACH ONLY!!!

Price for up to 6 people per boat.
Rates:
Full day : 8 hours = $1650 (inshore or offshore)
6 Hours Trip = $1500 (Offshore or Inshore)
Half day : 4 hours = $1100 (Inshore only)