Papagayo Fishing Charters
Probably one of the most abundat specie in this Papagayo fishing water is roosterfish, as heavy as a sailfish offer spectacular fight for profesional or beginner fisherman. More trophy size roosters are taken from waters around Bat islands or Catalinas islands in the gulf of Papagayo fishing area than any place in the world. Gulf of Papagayo is the perfect place to fish big Rooster using live bait, 40 to 80 pound roosters, are caught with certainty all year round. Check our complete Costa Rica rooster fishing article.
Gulf of Papagayo Fishing has been great for inshore and offshore fishing due many kind of migratory and not migratory species come to this area making Papagayo fishing very productive year around. Species including marlin, sail, dolphin, Rooster and by seasons, Yellow fin tuna, Wahoo and others no migratory species make this place incredible for inshore and offshore fishing. And if your pleasure is for bottom fishing, no better place: Grouper, big Cubera Snapper, AmberJack, Read Snapper (Guachinango, Pargo Rojo) make Guanacaste fishing unforgettable.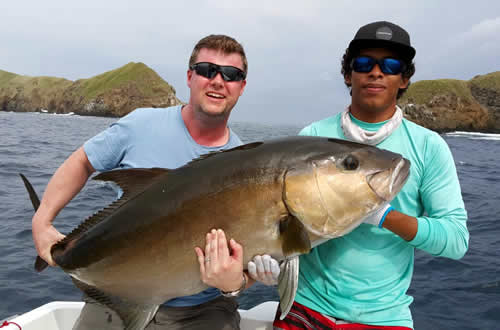 The very famous Bat islands at the north side of the gulf of Papagayo has been great for Rooster, big Cuberas, Wahoo and of course giant Marlin and hundre+ pounds sails.
These waters are considered some of the finest in the world for blue marlin. Seen year round, most catches are made during December, January, February, March and April. The rare striped marlin is also occasionally caught in our waters.
The fertile Gulf of Papagayo fishing grounds provide year round action for a varieties of sport fish. Although most famous for its sail fishing from April through September, these same waters produce great marling catches almost every month of the year.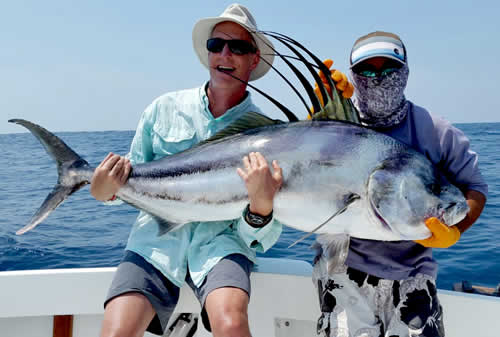 Lets keep the species for future. We practice catch and release fishing conservation technique for all billfishing species like Marlin, Sailfish, Swordfish, also for Rooster and any other specie you don't want to keep. With other species fish we typically allow you to keep what you and your party can eat. These type fish like Dorado and Tuna can make some mighty fine meals for you and your friends.