Do You Pick Up by Boat?
Do you pick up by boat or does my group needs transportation to meet your boat?, this is a question many people do and would like to know in advance. We know our area and can help you, for sure, with the logistic a fishing charter require: renting the right boat for your group, beverage and food, fishing licenses, transportation or beach pick up by boat and so on.
Our boats are in Playa del Coco; however, we can move them to the beach your hotel, condo or house is located and doing shore pick up in that place using a dingy. Sometimes this service is for free; however, due the long distance we must to charge an extra fee for this service in other occasions.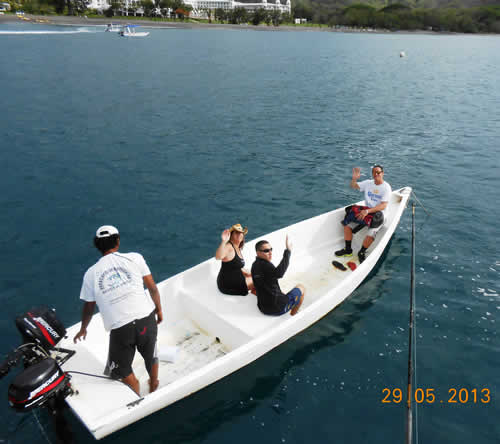 Some hotels or beaches we do beach pick up by boat and FOR FREE are:
. Peninsula Papagayo: 4Seasons/Exclusive
. Playa Ocotal
. Hotel Mangroove Papagayo Bay
And also pick up by boat for an extra fee from:
We also cater for people staying in other locations:
.Playa Grande
We would arrange their transportation to Flamingo beach where we would pick them up by boat.
So, does not matter where you will be staying, contact us and let us know so we can coordinate what is the best option for your pick up.