Playa Grande Costa Rica
Playa Grande, Tamarindo and Playa Ventanas, make up Bahia Tamarindo. This beautiful beach features rocky areas and an island (Capitan) at its southern end. Its luxuriant greenery includes pink trumpet trees, tamarinds and coconut palms. Excellent and varied services are offered, allowing visitors to enjoy the beach by day and the nightlife after sunset. Playa Grande is known worldwide for the arrival of giants turtles leatherback for nesting in months between October to March. In other hand, it is an ideal place for relaxing, walking, horseback riding and very close to two of most popular sport-fishing in Guanacaste: Tamarindo and Flamingo beach.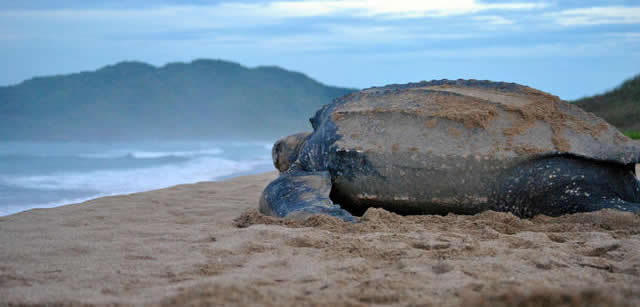 Playa Grande is 80 minutes from the International airport in Liberia or 20 minutes from airport in Tamarindo beach for domestic flights in Costa Rica. It is also 20 minutes from fishing charters departure in Flamingo Beach.
Are you coming to Playa Grande? and want to give Costa Rica fishing a try? Let us know, we can arrange your transportation to Flamingo beach where our vessels will wait for you and drop you off as well at the end of the trip, just contact us.