Playa Ocotal Costa Rica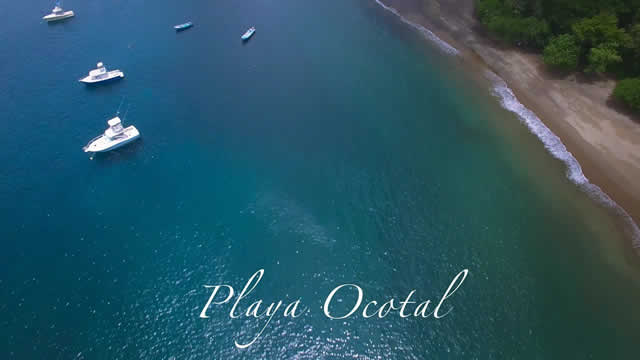 Playa Ocotal, The Ocotal is a nice, small and white sand beach located in the gulf of Papagayo. The beach is very clean with crystal clear water round the year; so, it is a nice place where to practice snorkeling or just to enjoy walking on the beach. The beach is no more than 800mts long and part of it is rocky and no apt for walking or swiming.
How to get here: There is no local people town here; so, no local people living in the area; however, it is pretty close to Playa del Coco, just 2 mile from this other beach. In fact, you have to reach Playa del Coco first and then drive for 5-10 minutes to reach the Ocotal. Playa Ocotal is 35 kms from the Liberia airport and its access is in a paved road. In the area was operating Hotel El Ocotal for many years but not it is closed and expected to be open soon.
Accommodation is possible; however, condos and beach houses are no a cheap option and the closest hotel is in Bahia Pez Vela which is just 5 minutes and very close beach from Ocotal. Many condos and luxury cabins for rent in Pez Vela is one of the best option.
As it is close to Playa del Coco; we do beach pick up by boat from Octoal beach. We move our boats to this place and using a dingy will do beach pick up to start our fishing charter in the gulf of Papagayo. Contact us and let us know about your fishing charters out of Ocotal.