Surf Fishing in Papagayo
Want to do some surf casting while staying in Costa Rica?, it is easy, just take your favorite rod & reel and bring them with you. Right in the morning, 6am action starts at the beach, it is the best time to go down and wait there to start the action and have some fun. Almost everybody enjoy this type of fishing, from young boys to old men like to give it a chance.
No protocols, no licenses no restrictions, just fun and relax casting for some jacks, mackerel, blue runners and if lucky: small roosterfish!!!. No, no snook here in Papagayo since there are no big river mouths.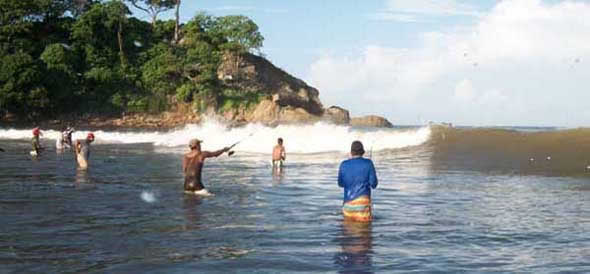 Fishing in Playa del Coco, Hermosa, Matapalo, Potrero and many others beaches is good in months of rainy season; however, some species such as roosterfish is territorial and they are waiting out there year round.
If you are lucky and find a local guy doing the same, maybe he has bait (sardines) and I am pretty sure he will share it with you; however, you have to bring your own weights and J hooks and determination of have a nice time while you are there, remember saying: "a bad day of fishing is much better than a good day at the office".
What to bring, well it is easy, a spinning reel, a 15-20 would be great, some spoons, feathers or small poppers would be perfect. We use silver spoons and feathers to fish for jack jurel and mackerel.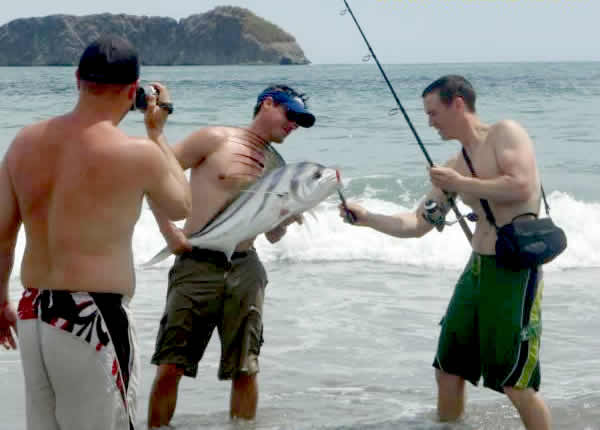 As I said, the best time to fish is right in the morning; however, sometimes it is also good in the afternoon, after 3-4 pm. Last time I was in Playa Matapalo (Riu Guanacaste beach) there was a local guy fishing for jurels, he was using a weighty silver spoon and it was very effective. When I was a young boy, I fished from 5:00am until 6:30am before to start running because the school started at 7:30am, oooh!!! What a nice time I had, did not matter if it was raining or not; well, that is not the point. I fished using feathers (from a real chicken, I made my own lures) and a kind of lure made of a bone (hueso), it worked just like a popper.
So, enjoy surf fishing in Costa Rica, sometimes it is in front of the house or resort , just few meters away from you. It is better to be prepared.