Papagayo Sport Fishing Reviews
May 7th and 8th, 2017
The Carl Balzo group was fishing with us on May 7 and 8 onboard our La Manta boat. They had a nice time of fishing, mainly the first day and here his feedback i want to share with you:
Genaro I want to comment you and your crew for yesterday's trip. Your crew did a great job working diligently for us the catch fish. They never stopped working and trying. Yesterday we caught 1 blue marlin, 2 sailfish a yellow fin tuna and 2 mahi mahi.
thanks again
Hopefully we'll return next year.
On August 6 and 8
the Mark Barbera family was fishing with us for both: inshore and offshore and here is a feedback from them:
Hello Genaro,
I just wanted to follow-up on our outstanding two days of fishing August 6 & 8. We had a great time, and having fished all over the world, I can tell you that Capt. Arnaldo and First Mate Oliver were first class fisherman, putting us on the fish all day long for each of the two days and absolutely knowing what they were doing. They were attentive to our needs for the entire time we were on board La Chila-G. My three sons, ages 9, 13 and 15, each had the opportunity to land at least one sailfish and at least one roosterfish. My 13 year old Vito has wanted to catch and release a roosterfish for years, and on this trip, his dream came true. Overall, on day one, we landed 6 of 8 eight sailfish raised, and even had a marlin come up on the spread hitting the teasers, as well as landing a couple of dorados for the dinner table. Day two we released 5 roosterfish between 45-65 pounds, as well as many other inshore species. Many thanks to you and to our crew for making this a memorable trip.
We will definitely be back again, as our love for both Costa Rica and for fishing has made for a wonderful vacation there. We look forward to fishing with you again in the future.
Mark A. Barbera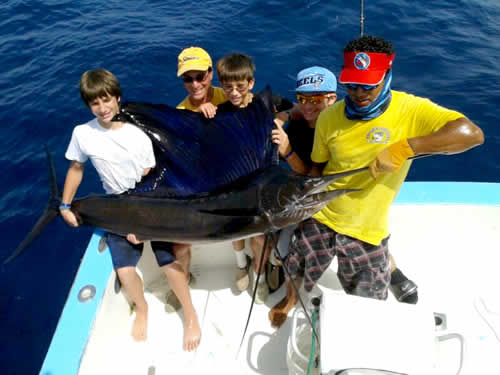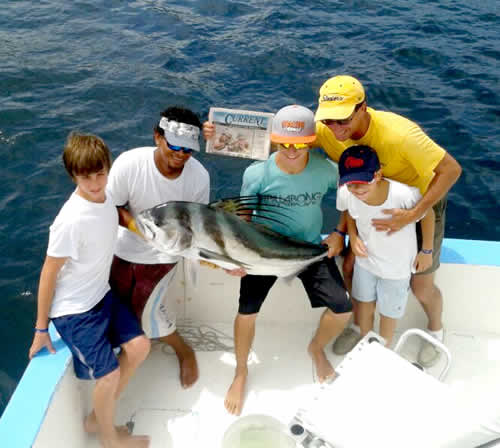 On July 16, 2013
Greg Tobiczyk and his son, who was celebrating his birthday, were deep sea fishing with us on board the Cormoran boat. Here a feedback from him i want to share with all those who visit my website...
Good morning,
This is the first chance I have had to follow up with you and thank you for our fishing trip with Luis and Jose. By now you have heard about the Black Marlin we caught estimated at about 400 LBs. Luis took some nice photos. Please see if you can get those for me and send to me. We will send our photos and a video as well to you and maybe you would like to post them to your website?
We wanted to thank you and the crew again for a wonderful day. It was my son?s birthday and we have always wanted to fish in Costa Rica. We have been blessed to be able to take many fishing charters in many places but we had no better time than we had on the Cormoran. Catching fish is one thing but when you pick a crew you want them to be fun to be with, professional and hardworking. These guys were all that and more. The crew even fixed us up with fresh Dorado Sushi that we caught during the day. They had a great assortment of cold drinks, great sandwiches and snacks too. The fresh pineapple really was unbelievable!
Stats for the Day: Many Dorado and Bonitas, We pulled the hook on 3 sails and caught and released one Black Marlin estimated at 400 LBs. We also saw many turtles, dolphins, leaping rays and some of the most beautiful scenery in the world. Many families underestimate the fun they have on the water and what they will see when they are fishing. The boat ride and the camaraderie is a big part of the experience. The trip was a complete joy. If anyone who sees this post would like to contact me directly please do at gtobiczyk@comcast.net.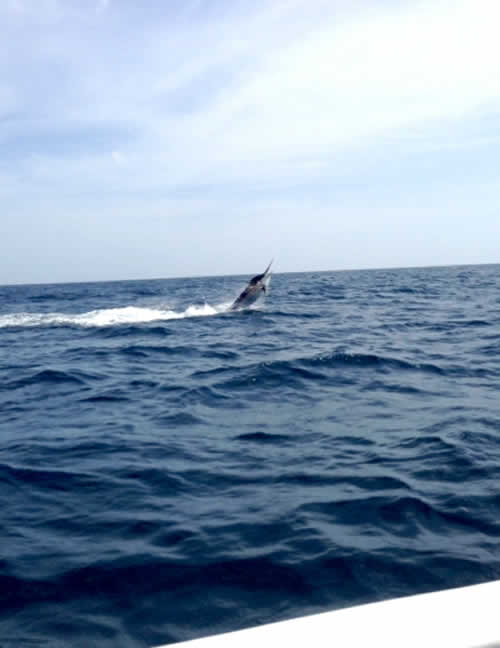 on June 5
The Dodd Family was fishing on board our LA POLA boat
Genaro,
We had an amazing days fishing. Plenty of Tuna and Mahi Mahi. We have just made a great meal of the Mahi-Mahi. Everything went like clockwork. Your captain and his mate were excellent. Thank you very much for a days fishing we won't forget.
The Dodd Family
On May 24 and May 28
First off, on behalf of my brother, Ron Shepherd, and all of our family and friends, I just wanted to say THANK YOU for an amazing fishing experience that we will remember for our lifetimes! I had the pleasure of fishing with Captain Jesus and Mate Louis on Tuesday, May 28th (the picture you have on your fishing report website is of me and my son Justin with our first Sailfish!). Jesus and Louis were amazing, friendly and were first class! All of the charters we booked with you and your fleet were top notch and we cannot thank you enough for all of the memories!!!! We look forward to visiting Costa Rica and fishing with you all soon again!
Thank you again and "Pura Vida"!!!!
Jason Shepherd
on January 29, 2013
I'd like to thank Genaro Mendez for setting up our fishing trip on January 29th, 2013. We booked the Cormoran and were picked up at our resort. Captain Miguel and 1st mate Luis took us out of Papagayo Bay where we started our fishing. The first thing that really impressed me was the speed that they had all lines set up. By far the quickest I've seen. (we've been on over 13 other charters in Costa Rica and Mexico) Fishing was a litlle slow at first but Luis kept working hard and before long we had our first fish on. Things picked up after that. We ended the day with 5 Mahi Mahi. During the day, Luis kept giving us excellent service as far as snacks, lunch and making sure we were comfortable. All the fish were taken care of and put on ice right away. When we had a fish on, Miguel kept the boat positioned perfectly. This was a first class charter experience for us and would recommend Genaro's services to anyone. We will be back to Costa Rica and will use Genaro's services in the future.
Thanks so much,
Dan and Deb Nell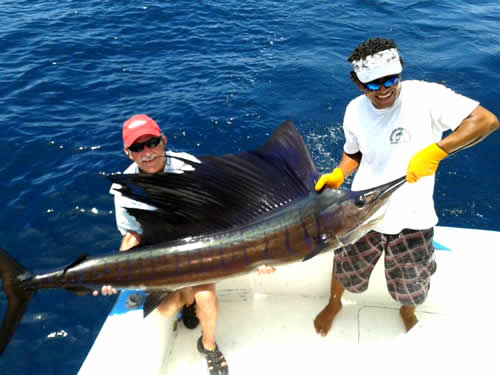 Fishing out of Four Seasons
"The sea was calm and the water was crystal clear. We encouraged the Captain to search for bottom feeding fish as we had never landed a rooster. I beleive it was early or out of season for the rooster so we knew it might be difficult. On our journey north from Papagayo we saw several pods of herring and thousands of pelagic fish feeding on them. Throwing a lure into the water we could have caught tuna all afternoon.
Picture (1) is what we call a "double header" - within moments of stopping both Jake and I had very nice Jack Crevalles on - at the same time. We could have done this all day as well. The crew was helpful in switching lures and shortly after landing several Jack's a monster was hooked. My son Jake fought it for 1 hour (Picture 2) and when it neared the surface it simply twisted it's head and snapped the lead. We searched for some time and eventually landed a beautiful rooster (Picture 3). On our way back to Papagayo the captain spotted a school and instructed the 2 crew and Jake and I to get lines on the bottom. Within 15 minutes we had 18 beautiful red snapper (picture 4) for the crew and captain to enjoy on this Easter sunday!
I would reccomend always fishing with local captains and the La Chila G was one of our best charter experiences!
Don Vroon"
On July 27-29, 2012
We booked this boat for two days. They will bring the boat to the shore of the Rui Hotel and picks you up around 7:30. We booked for just me and my wife two full days. In the mornings we would deep sea troll. If the fish were not biting then we would move inshore. First day I cought a beneta, sailfish, rooster fish my wife caught a beneta, roster fish. These are the ones we got in! I hooked into another sailfish 5 minutes later. Broke a line and a leader fishing for rooster fish. Next fishing day we did the same thing but a different area. I caught a Maui-Maui, Wahoo and hooked into another sailfish that came off. The boat caption and his son worked there buts off getting us on fish. They were constantly changing bait, lures areas to keep one of us on a pole. This was a fishing trip of a life time. And we will be back next year. The captain and his son Danny are great at there jobs. Just tell them what you want to catch and they will find it. We took some of the fish back to the hotel and the main chief made sushi, grilled and rosted Maui-Maui and Wahoo. You have to sign a wavier for them to do this. You need to pick up sun block in the US. If it says rain in the forecast that means sunny. You will not regret using this boat and crew. Enjoy
On July 26, 2012
This day, Eric Rudge and his wife were fishing with us on board our CORMORAN boat for a full day and here their feedback:
"Just wanted to say thanks for an amazing time out on the water last Thursday. My wife and I went out on the Cormoran with Miguel and Louis. I could not have asked for a better crew. Capt. Miguel definitly knew where the fish were and Louis worked harder than any deckhand I've ever been out with. Everything was awesome! From picking us up from out hotel to the beer and food, and of course my Sailfish!. Everything was first class! Please pass my thanks on to Miguel and Louis. They are a great team and gave us memories that will last a lifetime. We are already planning a return trip to Costa Rica and can't wait to be back out on the Cormoran! Thought I would attach a few pictures from our trip. Feel free to use them for marketing purposes if you wish."
May 27, 2011
Good morning Genaro!
Just wanted to let you know that my wife and I had a great trip with Carlos and Arnaldo on board La Chila G (spelling?) on May 27, 2011.
We ended up catching 3 Dorado (one was released because he was too small) and 2 Spanish Mackerel.
We took one of each back to our hotel and gave one of each to the crew.
All in all it was a very successful trip because my wife and I were really hoping to land a Dorado, so we could check it off of our to-do list. She caught one and I caught one, mission accomplished!
We had an incredible experience. Carlos was quick on his feet and super nice while Arnaldo had a great sense of where-to-go and a fantastic set of eyes.
Thanks for being in touch and always available whenever I had questions.
We would definitely recommend your services to any other Angler enthusiasts.
Attached are a few pictures.
Thanks again!
Kris and Alisha from Dallas, TX
April 25, 26 and 27, 2011
"Aloha Genaro!
We are back home after a great 3 day charter (April 25-27, 2011) on the Albatres boat with capatain Greivin and mate Lino. The fishing was excellent. We caught blue marlin, roosterfish, mahimahi, tuna, and other fish. Our fishing was successful because Greivin and Lino were very experienced and knew where the fish were. They gave us great service each day. We were pleased and hope to come back soon.
Steve and Harumi Karel
Honolulu, Hawaii"
August 07, 2010
Genaro,
First, thank you for your extremely prompt return of our deposit! I knew I could trust you with no problem!
Second, thank you for an excellent day of fishing on Cormoran. The captain and his first mate took excellent care of us and worked extremely hard all day to ensure that we had a successful day. They gladly accommodated the 2 additional people we brought along unexpectedly. Great job to you for handling the transaction and to the captain and first mate for making the day memorable. Attached are a few pictures of the fish we caught.
Next time we are in Costa Rica, we will fish with you again for sure.
Pura Vida!
Paul