Papagayo Costa Rica Fishing
Welcome to Papagayo Sport Fishing; anglers, fishermen and those who would like a fishing charter out of Papagayo (Peninsula de Papagayo, gulf of Papagayo), Flamingo or Tamarindo beach at the north western corner of Costa Rica. Fishing charters in these world wide famous water for its quality and great variety of fishing species let us provide awesome deep sea fishing charters and fabulous inshore Papagayo fishing trips, these waters are productive twelve months of the year.
We also cater for non-experienced fisherman, their families and friends are welcome to enjoy our charters to combine passion and pleasure for sea and fishing. It's your trip and we as local have the knowledge and personalized service available for you and yours.
WE ARE BOATS OWNERS!!!; so why not to book with us and save some money when you vacation here. Each boat captain and crew will make all what they can do to reach the best fishing spots and to catch the fish you are looking for.
About Pick Up ...
When possible, we pick up, BY BOAT, from the hotel beach you are staying. Contact us by e-mail or give us a call if you have any questions regarding our charter boats.

Fishing on April 18, 2013
- Jesus Mendez, on board the CORMORAN boat took the same guy that was fishing on board LA CHILA-G two days ago, but now, he wanted to go inshore fishign for a half a day. Lucky guy fishing offshore and now lucky fishing inshore since here released 5 roosterfish.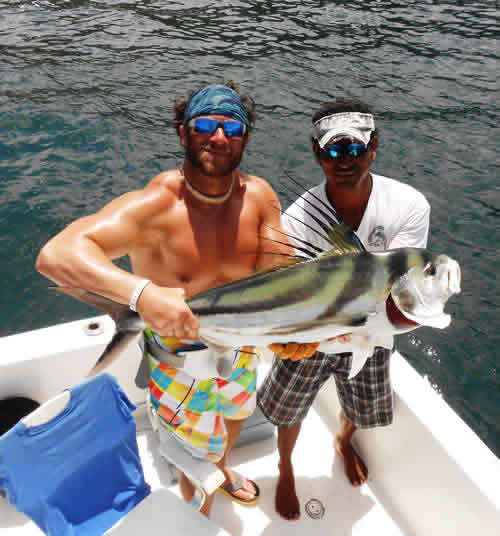 - Robert Cahill and his party, from the Riu Palace Costa Rica where inshore/offshore fishing on a full day charter on board the MONO boat. They landed a nice 250lbs blue marlin, one small roosterfish and othe bunch of inshore species.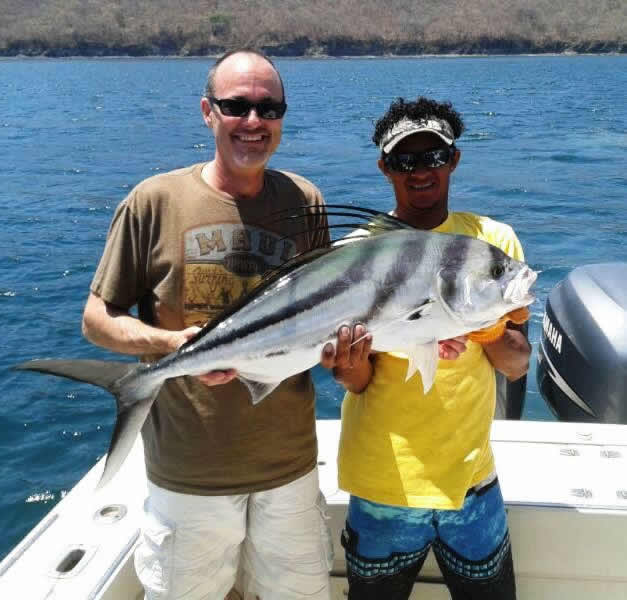 Papagayo offshore fishing, on April 16, 2013
It is getting better!!!
- This time, Jesus Mendez, on board the CORMORAN boat took Paul Mariscal, his father and his son. The 3 of them were offshore fishing out of Playa del Coco. They had a nice day and landed 5 sailfish.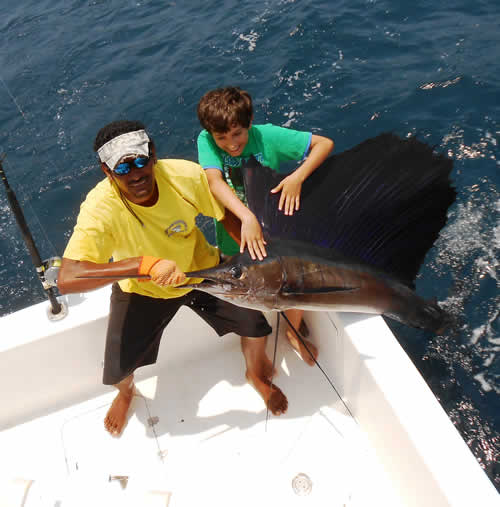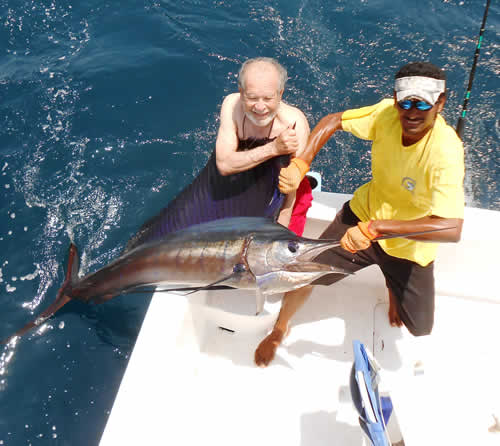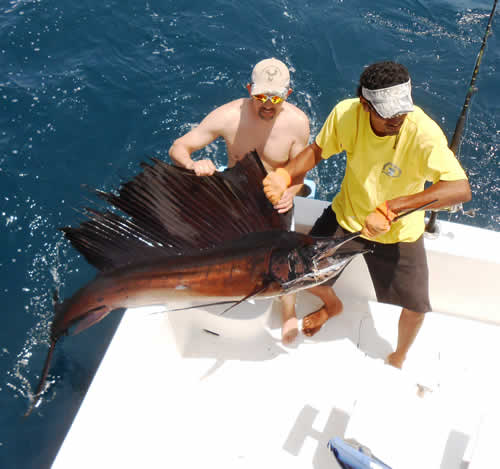 - Also, Arnaldo Mendez, on board LA CHILA-G boat took a guy from the the Riu Guanacaste hotel fishing offshore for a full day charter. They had a lot of sails raised and released 9 of them and also a big dorado.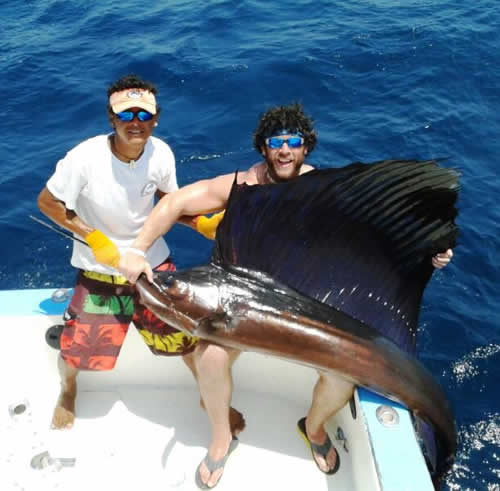 Papagayo offshore and inshore fishing, on April 14, 2013
Captains have been reporting good offshore fishing. Rains are coming, fishing is improving and we hope it gets better with more species to catch such as wahoo and yellowfin.
- Tom Janukowicz who was staying at the Four Seasons Papagayo had a busy day fishing on board our LA CHILA-G boat with Arnaldo Mendez as captain. They were fishing near the Bat islands and released 8 small roosterfish, 2 good sized hamberjacks and 2 big jack jurel.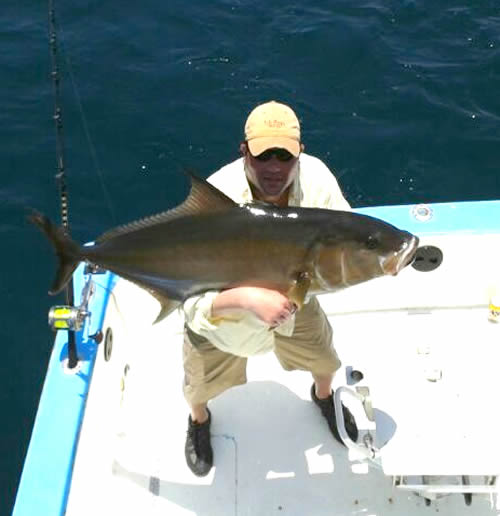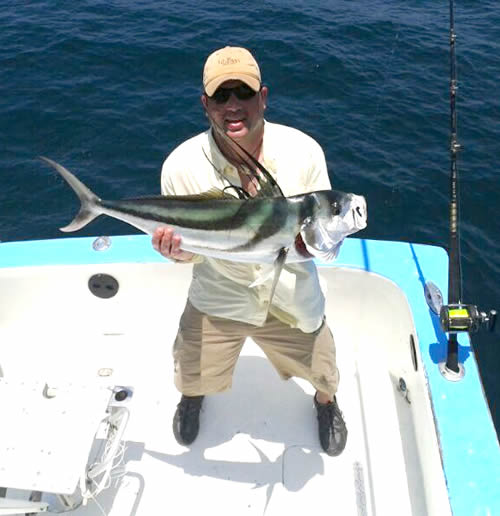 - Bill Lloyd and two more friends were fishing out of the Riu Guancaste hotel on board our CORMORAN boat. They have a excellent offshore fishing day and landed 8 sailfish and one blue marlin.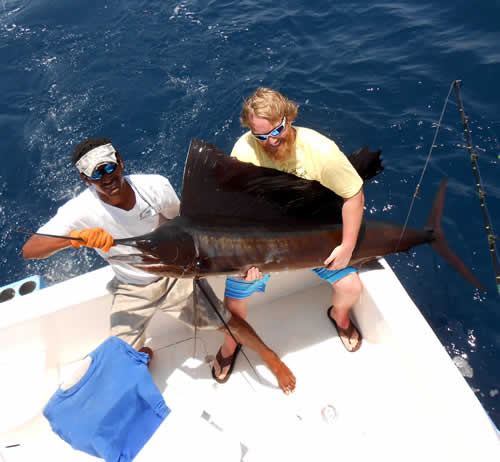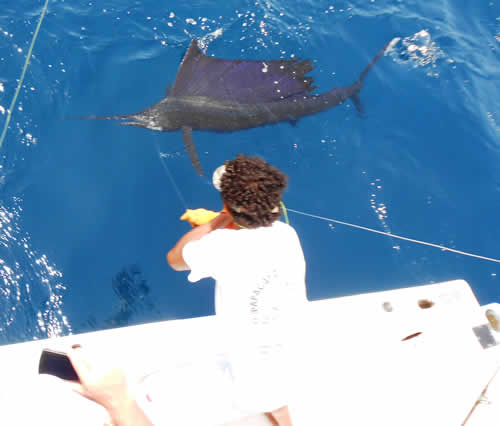 Fishing offshore out of Playa Conchal on April 13, 2013
- The Crystal Schmidth group was fishing offshore out of Playa Conchal on board LA CHILA-G boat and Arnaldo Mendez catpain. They had a nice day and raised 9 sails and landed 4 of them.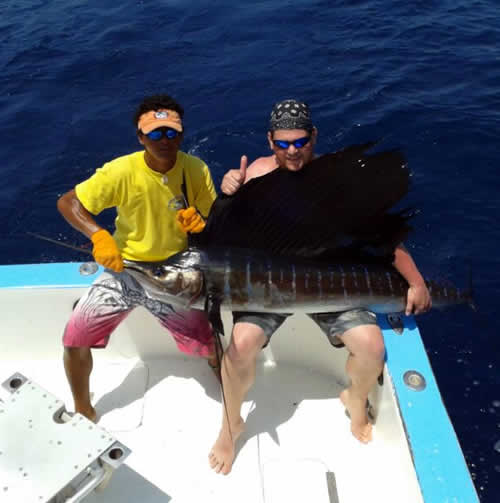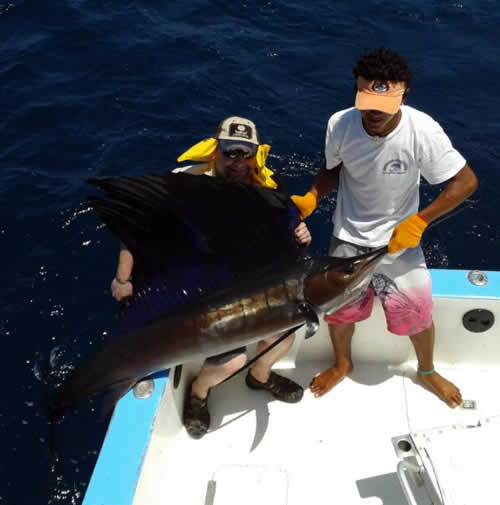 on March 20, 2013
- Lisa Penner and his husband were fishing with us on board our MONO boat. They had a nice day and caught a few dorados/mahi-mahi in the gulf of Papagayo, near the Bat islands.