Costa Rica Fishing with Papagayo Sport Fishing
Welcome to Papagayo Sport Fishing; anglers, fishermen and those who would like a fishing charter out of Papagayo (Peninsula de Papagayo, gulf of Papagayo), Flamingo or Tamarindo beach at the north western corner of Costa Rica. Fishing charters in these world wide famous water for its quality and great variety of fishing species let us provide awesome deep sea fishing charters and fabulous inshore Papagayo fishing trips, these waters are productive twelve months of the year.
We are located in
Playa del Coco
in the gulf of Papagayo; however, provide fishing charter for other spots such as: Flamingo beach, Conchal, Playa Grande and Tamarindo. Lets us know where you will be staying and will know the best way you reach our boats.
WE ARE BOATS OWNERS!!!; so, why not to book with us and save some money when you vacation here. Each boat captain and crew will make all what they can do to reach the best fishing spots and to catch the fish you are looking for.
About Pick Up ...
When possible, we pick up, BY BOAT, from the hotel beach you are staying. Contact us by e-mail or give us a call if you have any questions regarding our charter boats.

Papagayo Fishing Reports
December 16,
Arnaldo Mendez, the La Chila-G boat captain picked up from Playa Conchal Geoff Newton and his small son. Geoff wanted to try offshore fishing in the morning; so, they went fishing out of Catalinas islands. Geoff landed a sailfish and had a mahi mahi with his fly rod, but he could not take it home. His small kid has also action and in the pic below is showing one of the mahi mahi he caught.
In the afternoon them came to the shore and were casting near the reefs. Caught a big needlefish and a cubera snapper.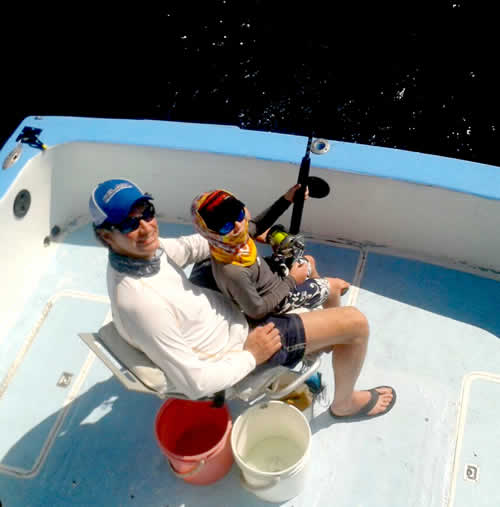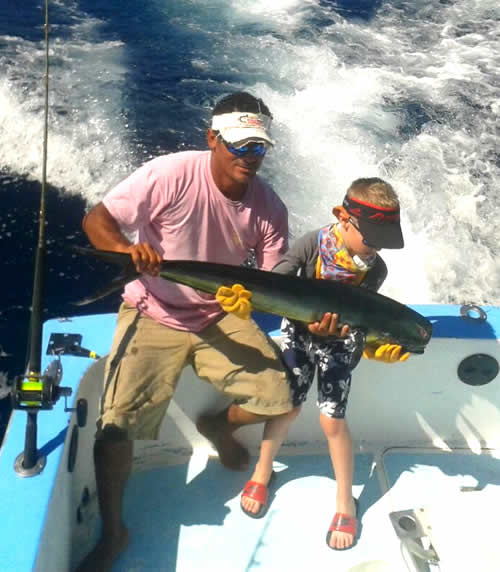 Pics from Mike,
Here a few pics i got from Mike who booked our Sea Snake boat for a full day fishing charter out of Dreams Las Mareas hotel for November 24. They had a nice day.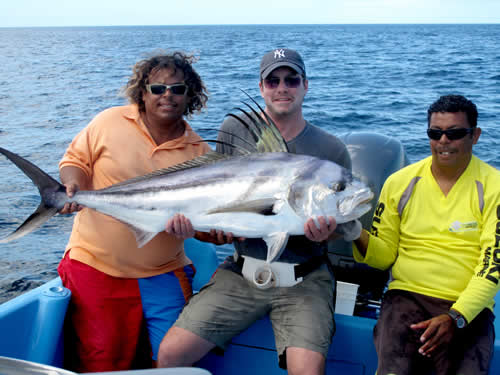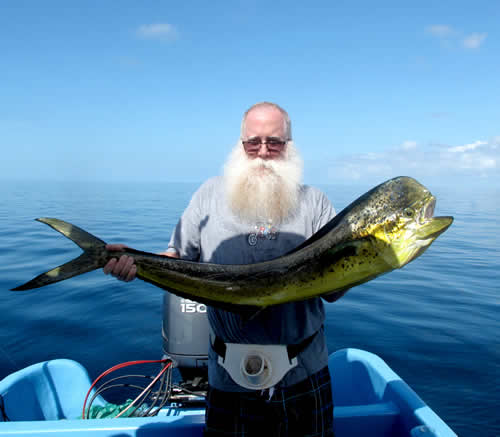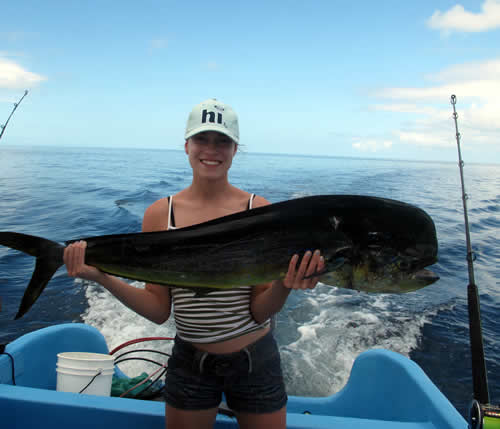 November 26,
- Cormoran boat: Jessica Tietjen and one more person from Playa Conchal were deep sea fishing on board our Cormoran boat. They had a nice day ending with 7 dorados and 1 sailfish.
- La Chila-G boat: Kyle Sibley and his wife from the JW Marriott Guanacaste were deep sea fishing out of Flamingo beach (i arranged their transfer) on board our La Chia-G boat and Arnaldo Mendez captain. They had a day with a lot of action, landed 4 sailfish, 3 mahi mahi and 1 striped marlin.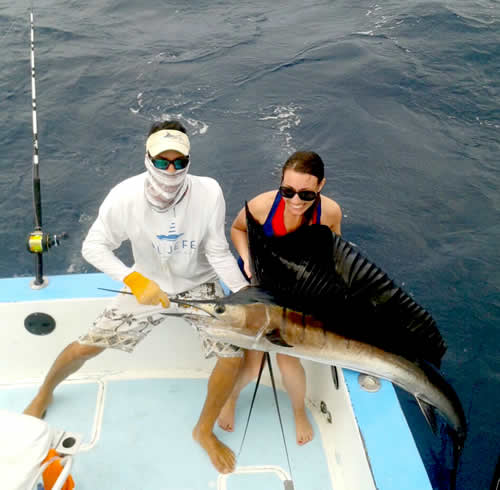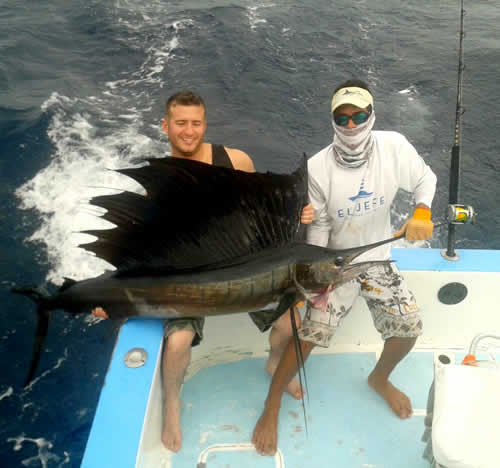 November 25,
- Mahi Mahi boat: Virginia Fain and two more friends were inshore fishing for a half a day from the Ocotal beach. They caught 3 good sized mahi mahi.
- Cormoran boat: Stephen Kunkel and his two sons were inshore fishing for a day on board the Cormoran boat. They had a nice time and good action, they released 1 very good sized roosterfish and caught 10 mahi mahi.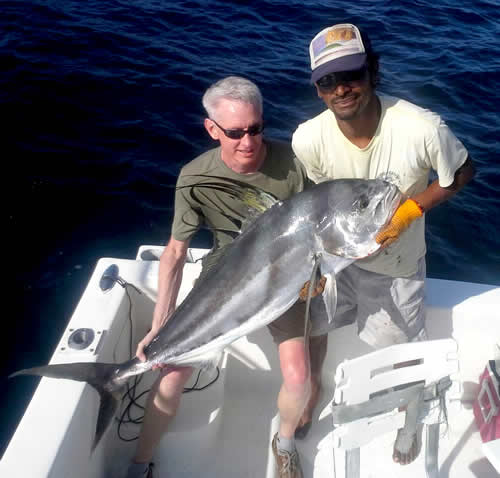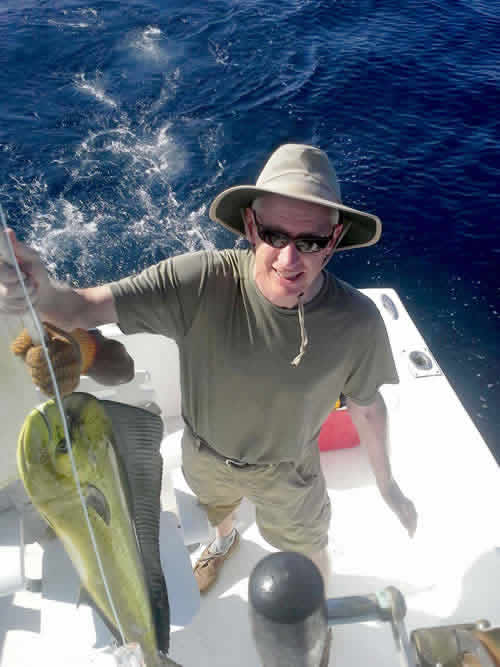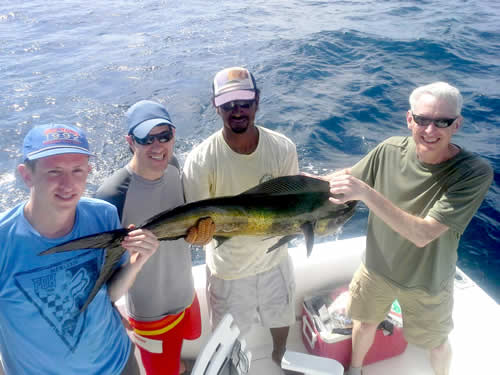 Shared charter for November 24,
Tom and Cody contacted me for a shared fishing charter. They booked our Mahi Mahi boat for a 6 hours inshore charter and came to Coco beach early today. They were fishing for whatever is biting; so, Arnaldo Mendez the boat captain took them fishing for dorado/Mahi Mahi and had a great day. They caught eight nice dorado and a couple of small bonitos.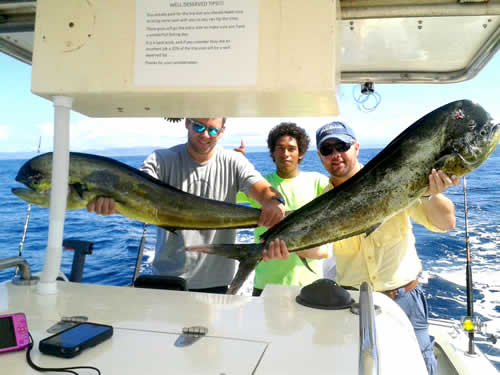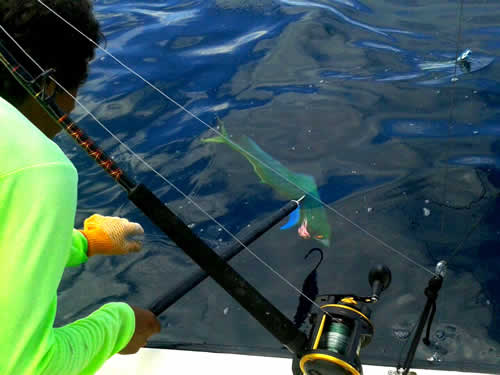 On November 22, 2014
Michael Becktel from the Hilton Papagayo hotel contated me regarding a shared offshore fishing charter; however, nobody was interested; so, he decided to go for a half a day inshore fishing on board our Mahi Mahi boat and ARnaldo Mendez captain.
No doubt, fishing is fishing, Michael landed the nice sailfish shown in the pic and 2 very good sized dorados/mahi mahi.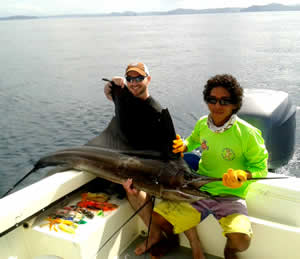 On November 22, Dreams Las Mareas fishing report
We started operation at El Jobo beach, in front of Dreams Las Mareas hotel. Right now, weather is excellent, very slow or zero windy conditions and good fishing. By now, only inshore charters but with good success.
Here a few pics we took on board the Seas Snake boat just a couple of days ago: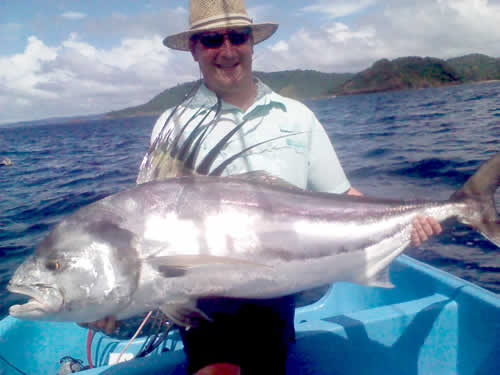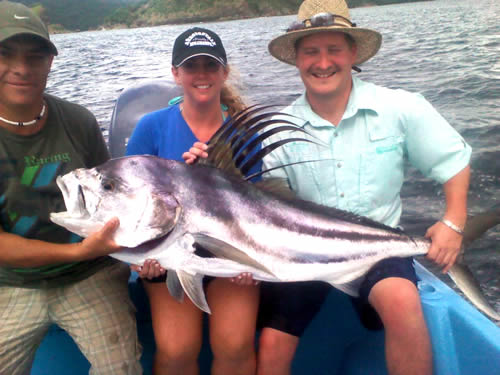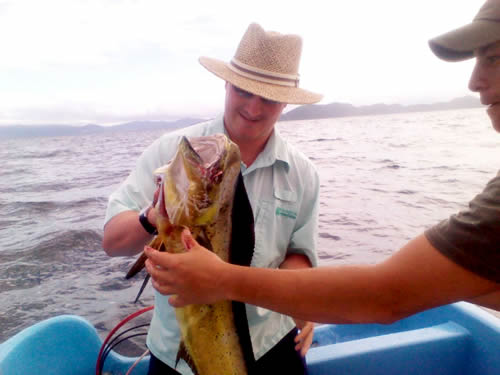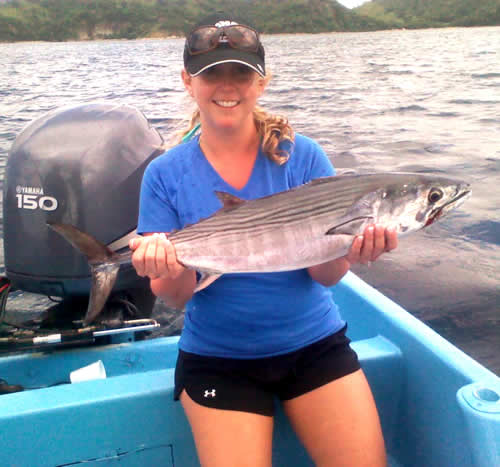 September 23, 2014,
Fishing has been really good lately, good sized dorado (mahi), rooster, sailfish and marlin fishing.
Excellent seas conditions with some showers in the afternoon.
For September 11, Stefan Westemeyer and his wife were fishing with us for a full day charter on board our LA CHILA-G boat and Arnaldo Mendez captain. They had a nice day with flat seas conditions, no showers and good fishing; they landed a blue and a black marlins and for dinner 3 yellowfin tunas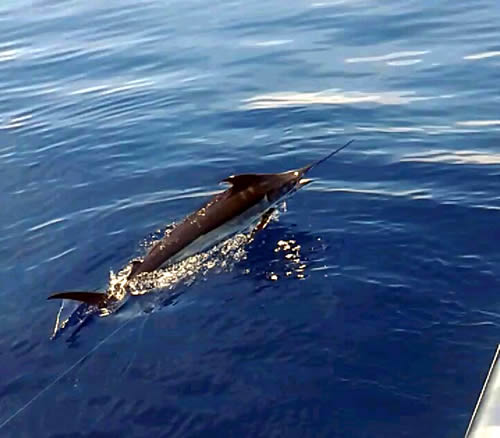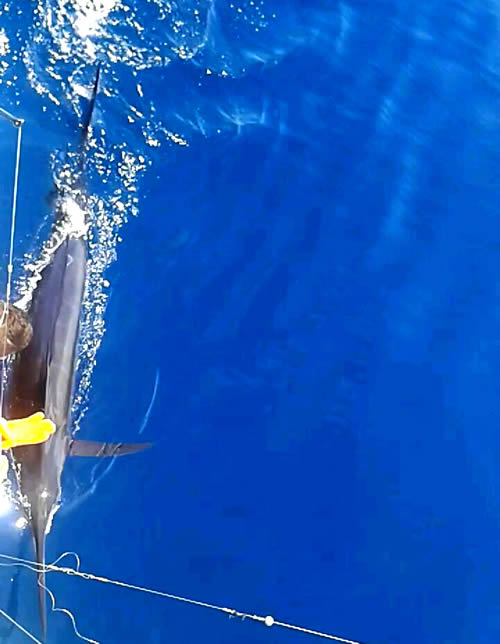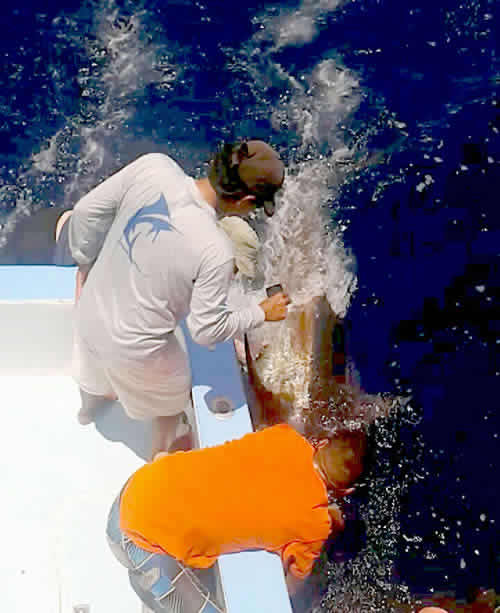 August 21st. Here our latest fishing reports. This is for the last few days only. Bottom fishing has been really good. We also have been fishing offshore with good success.
On August 12, 2014
Luke Dunkin was fishing on board our LA POLA boat for a half a day fishing charter. Luke was soo lucky and released a very good sized sailfish: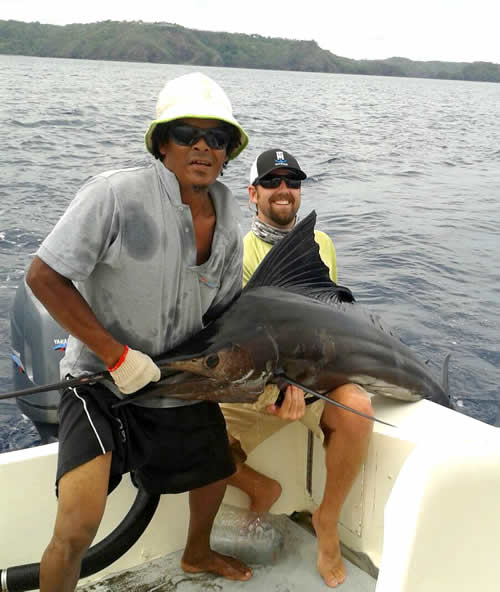 On August 11, 2014
David Bringard, his son and wife were inshore fishing on board the Mahi-Mahi boat for a full day charter. We picked them up from Coco at 7:30am and started fishing just 15 minutes later. They had a great day and caught 6 dorados, some bonitos and released a nice roosterfish too: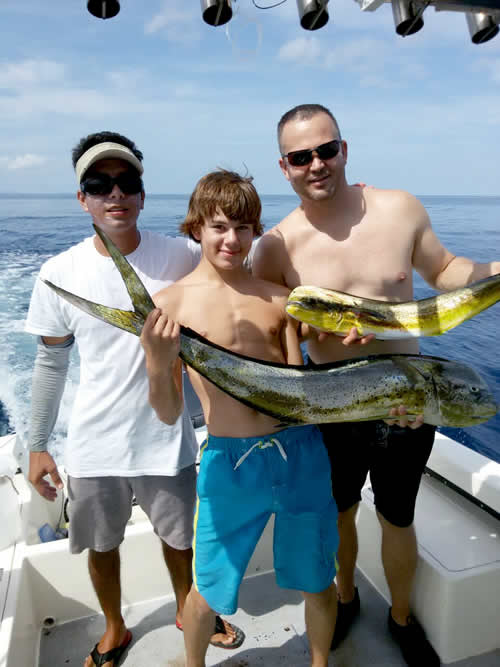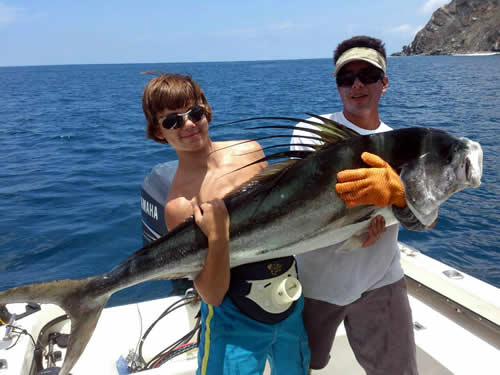 On August 5, 7, 8 and 10, 2014
Frank Weston was staying at the Andaz Papagayo hotel and went fishing with us for 4 days plus a family tour with his family of 4. The first 3 days he was bottom/roosterfishing on board our MAHI-MAHI boat. The first day he caught 7 hamberjacks and one cubera snapper. The second day was not very productive since only caught a hamberjack and one cubera snaper, mainly for the lack of live bait. The third day, on August 10, one more person came along and they had a very productive day again. The last day was on board our LA CHILA-G boat and was also very productive. Here a couple of pics from his trips: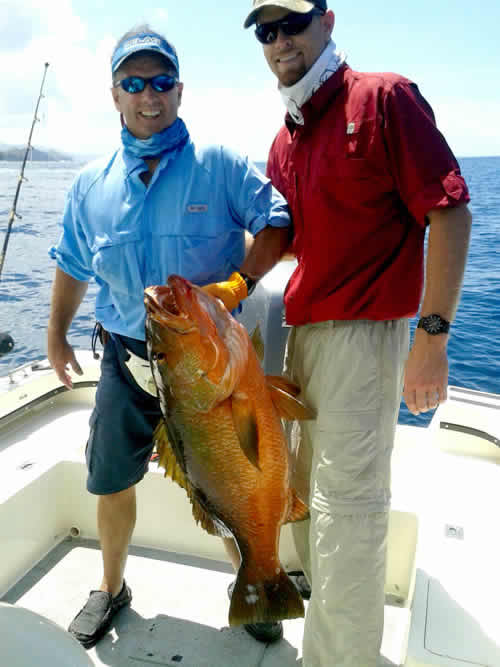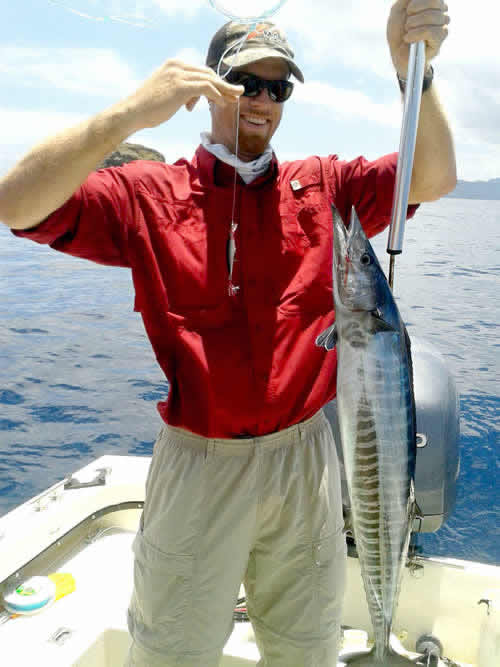 On August 9, 2014
Rowland Spencer, his mother and his girlfriend were inshore/offshore fishing with us on board our LA CHILA boat. They had a blast and released a sailfish, a roosterfish, one wahoo, two cubera snapper and other species: